William Wallick - 51st Indiana Infantry, Co. G

Rank: 2nd Lieutenant, promoted to Captain

Place of enlistment: Miami County, Indiana - October 8, 1861

Mustered into Federal service: December 31, 1861

Service Time: 3 years, 2 months, 11 days

Born: November 4, 1832 - Tuscarawas County, Ohio

Age at enlistment: 28

Civilian occupation: Carpenter

Family Lineage
William, son of Benjamin Jr, son of "Peru" Benjamin, son of Johannes, son of Hans Michael and Esther Wallick
2nd Lt. William Wallick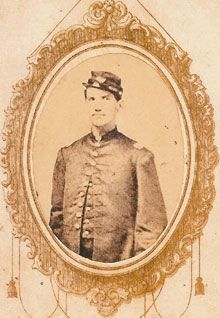 William Wallick was a carpenter in the spring 1861 when Confederate artillery opened fire on Ft. Sumter. That fall, William decided to put his trade aside for three years and enlist as a second lieutenant in Company G of the 51st Regiment, Indiana Volunteer Infantry. He, like many others in the north at that time, answered President Lincoln's call for 300,000 more volunteers to put down the southern rebellion. In October the twenty-nine year old William left his wife, Mary (called Molly), and new born child, Flora, to serve his country. Early in the war his regiment was either directly involved or put in a supporting role in some of the greatest battles in the west- Shiloh, Perryville and Stones River. But it was while he was posted in northern Alabama in the spring of 1863 that he became entangled in one of the most remarkable adventures of the entire Civil War.

Lieutenant Wallick was part of Colonel Able Streight's ill-fated and poorly conceived Raid to Rome, Georgia. William's brigade moved south from Nashville, then cut across northern Alabama with the intention of destroying the railroads and manufacturing in and around Rome. From the beginning one of the problems with this expedition was its reliance on mules for transportation. Because of the hilly terrain in northern Alabama, it was thought that mules would serve the brigade better than horses, for mules are more sure footed than horses on steep slopes. However, the braying of the 700 animals, as they meandered through the hill-country, made the Confederates fully aware of every movement the brigade made. The Rebels made great fun of Colonel Streight's "Lightning Mule Brigade" and joked about chasing after the "Jackass Cavalry." On May 3, 1863, Colonel Streight, along with most of his 1700 man brigade, fell victim to the wiles of Confederate General Nathan Bedford Forrest and were forced to surrender to him a few miles east of Cedar Bluffs, AL, near what is today the little hamlet of Lawrence. The men were taken to Atlanta and from there sent to two Richmond, Virginia prison camps- Belle Island for the enlisted men and Libby Prison for William and his fellow officers.
William was the second member of the Wallick clan to be sent to Libby Prison during the war (distant cousin "Daviess County" Michael was sent there a year earlier) and he kept a diary of his nine month ordeal, which survives today. Conditions at Libby were harsh for all the incarcerated officers and they were constantly trying new means of escaping. William was a tunneler in a plan to burrow out of the prison basement and vanish into the streets of Richmond. On February 9, 1864 William, with one-hundred and eight comrades, succeeded in tunneling out of Libby. He spent five days and nights in the swamps of Virginia evading Confederate patrols but he and fifty other officers eventually make their way back to their own regiments (the remainder of the escapees, including Colonel Streight, were recaptured by the Confederates). After the war, William presented numerous lectures about his escape and survival from hunger, cold, and the dangerous tidewater swamps of northern Virginia.
After a long recuperation and furlough back in his hometown of Peru, Indiana, William returned to his regiment in Tennessee. Many of his regimental brothers had reenlisted as veterans the previous month but he, along with some others, did not. He was promoted to captain during his incarceration at Libby and served out the rest of his enlistment with the 51st Regiment. William was discharged December 17, 1864, the day after the Battle of Nashville. The 51st was heavily engaged in that battle but William did not take part. He and those who were about to be discharged remained in camp, preparing for their departure.
William Wallick with the 51st Indiana Volunteer Infantry
1861
OCT 8 William enlists as a second lieutenant in the 51st Indiana Volunteer Infantry.
DEC 31 The regiment is mustered into Federal service at Camp Morton, Indianapolis.
1862
APR 6 Battle of Shiloh William and the 51st Regiment are in a supporting role guarding the troop supply trains.

A most handsome monument for guard duty!

The 51st Indiana Infantry's monument at Shiloh is located in a prestigious place within the military park, even though their main responsibility was guarding the wagon trains. They were under the command of future President James A. Garfield.


Back of the monument reads:


This regiment was detailed by Brigadier General James A. Garfield at Savannah, Tennessee, to guard and bring up the brigade train and also the division supply train and was not engaged at Shiloh.

MAY–SEP The regiment participates in General Buell's campaign in middle Tennessee and northern Alabama, then pursues General Bragg in Kentucky.
OCT 8 Battle of Perryville. The 51st regiment is held in reserve and sees no action but hears the sounds of battle.
Nov-DEC The regiment advances on Murfreesboro, Tennessee.
DEC 31 Battle of Stone's River- First Day of Battle The 51st is at the far left of the Union line and ordered to cross Stone's River when suddenly they are attacked by the enemy. The command to cross the river is rescinded and the regiment is then ordered to defend their new position. They fight continuously throughout the afternoon but eventually they are forced to retreat where distant cousins Isaiah and Levi Wallick's regiments have positioned themselves.

All three Wallick soldiers who fought at Stones River retreated to this position at the end of the first day of battle. The field is located south of present day Asbury Road.



1863

JAN 1 There is an all-day lull in the battle as each side adjusts and strengthens their lines.

JAN 2 Battle of Stones River- Second Day of Battle William and his regiment are moved on the battlefield to the Union left and engage the Confederates in some brief but heavy fighting around Stones River. By January 3rd the battle is over and the 51st is ordered to occupy Murfreesboro, Tennessee.

JAN-FEB Duty at Murfreesboro, Tennessee.
FEB 20 William begins his diary. (William Wallick's Diary-WWD) He writes of himself, "Lieutenant Wallick takes command of his company on the 20th of February, 1863." At first William's diary entries are very few and brief but by mid-March he offers more details concerning his regiment, the weather and letters to Molly, his wife. He is captured in early May and his entries during his incarceration become very short, but regular, until they start digging out of prison. By the beginning of January, 1864, there is a noticeable difference in the frequency and quality of information in his writing and the daily, whiny, mantra -"Still in this Hell and no prospect of getting out soon…" ceases. William, one of the tunnelers, didn't have time to write or whine while he was preoccupied with escaping. Also, during this time, his diary reads more positively and he is much less despondent. In this biographical sketch the focus of his diary will be limited to the dates of his capture, imprisonment and escape. He writes in a very free form, paying little attention to spelling or punctuation. Some of these shortcomings have been corrected here to help the reader.
APR 19-May 1 Colonel Streight (William's commanding officer) with 1700 men, leave Nashville, TN, to begin their raid on Rome, Georgia, in order to destroy the Western & Atlantic Railroad. The raid turns into a disaster.

MAY 2 WWD "We march hard all day. The rebs attack us and kill Colonel Wethermerz and several others."
MAY 3 William is captured and becomes a POW The entire command of the 51st Regiment is captured just east of Cedar Bluff, Alabama, by Confederate General Nathan Bedford Forrest and his troop five hundred cavalrymen. General Forrest tricks Colonel Streight into believing that the Confederates confronting him are a much larger force than the Federals by simply parading his troops in a partially concealed circle over a nearby ridge. Although vastly outnumbering the Confederates, Colonel Streight is deceived and surrenders his entire command. Because of this deception William becomes a prisoner of war for the next nine months at Libby Prison in Richmond, Virginia.

WWD "We are fired into 20 miles from Rome, Georgia. We surrender and go to Rome. We are treated hard."

General Forrest paraded his men on this ridge and deceived Colonel Streight.
William was captured here, along with 1466 others soldiers, May 3, 1863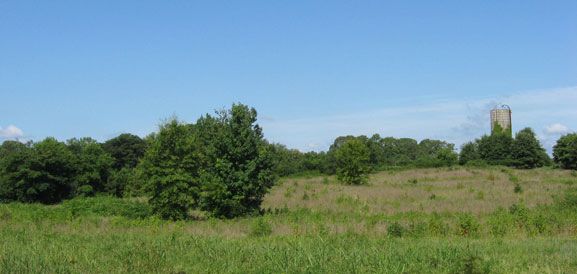 Surrender site of William Wallick and the 51st Indiana Regiment.
The monument below was erected by the United Daughters of the Confederacy.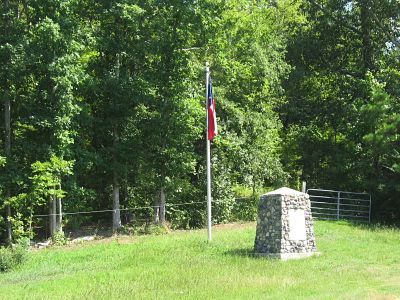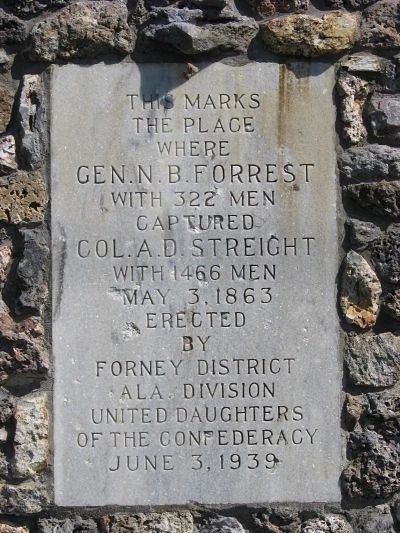 MAY 5 WWD "We take the cars to Atlanta, Georgia, 65 miles away. We get there at night, get the courthouse for quarters. We get supper a at night."
MAY 7 WWD "Some prospect of getting away. We are now confined to the room entirely. Something is afloat. We have all we want to eat. The weather is still cold, I wish I could send a letter home. The citizens are not allowed to see us. The boys fare hard."
MAY 14 WWD "We travel all day in North Carolina. We have a hard trip of it. Nothing much to eat… We get to Petersburg at night. Stop all night."
MAY 16 WWD "…we arrive at Richmond. Searched and put in prison but thank God all in good spirits."
MAY 20 WWD "Still in Libby Prison but in good spirits. Some hope of getting out soon. Here I sit and look out on the James River, I feel unwell today."
Libby Prison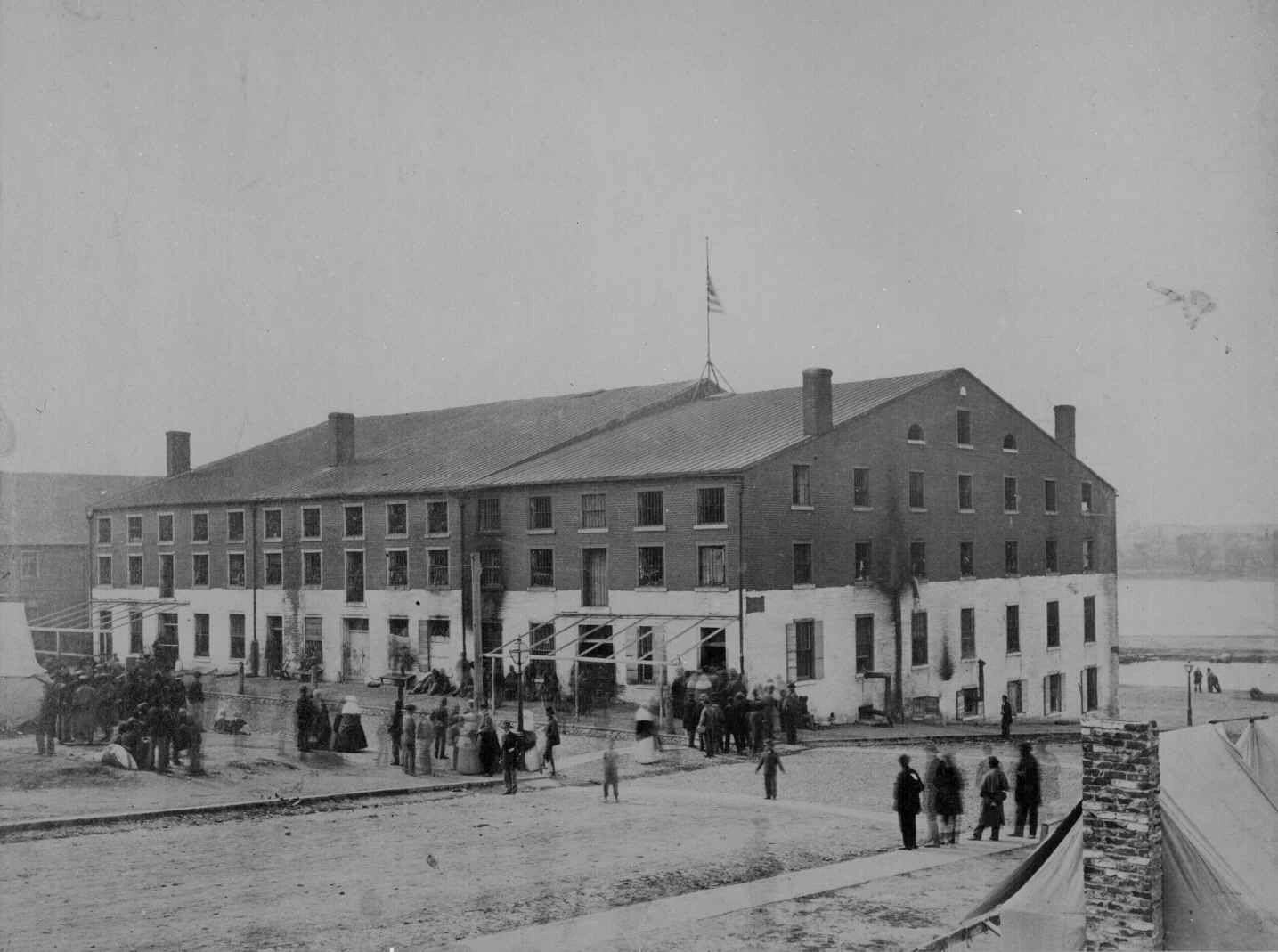 The Confederate government converted the Libby & Son Ship Chandlers & Grocers Warehouse near downtown Richmond, Virginia, into a prison for captured Union officers. Conditions at Libby Prison were harsh even by Civil War standards. The 150 x 100 foot three-story prison held 1,200 men in eight crowded, vermin-infested, and drafty rooms. Union Colonel Thomas E. Rose, of the 77th Pennsylvania, was placed in Libby Prison after being captured at the Battle of Chickamauga in September, 1863. Rather than endure the conditions in the prison, Rose planned to escape by tunneling from the cellar of the prison across a 50 ft. wide vacant lot and up into a shed on the other side of a board fence bordering the lot. By making a hole in the back of a fireplace on the first floor, Rose was able to gain access to an unused section of the cellar. With makeshift tools he and a few fellow prisoners, including William Wallick, toiled for weeks and carved a narrow tunnel under the empty lot. However, this first tunnel soon became flooded due to its proximity to the James River, rendering it unusable. A new tunnel was started and on February 7, Colonel Abel D. Streight, now the commanding officer of the prisoners, declared the new tunnel long enough and as senior officer involved in the project he demanded to be the first to escape. Unfortunately, when he broke through the ground he found he was still several feet from the fence and he overheard guards discussing the strange sounds coming from the ground. Miraculously, the hole in the ground remained undiscovered as the prisoners worked furiously for two more days to extend the tunnel.

This is just one version of the escape. Variations of this account were told and disputed for years after the war, however, there is little disagreement about the following facts:

During the evening of February 9, Colonel Rose, along with Colonel Streight and some of his men, crawled through a tunnel made by the prisoners and disappeared into the streets of Richmond. At morning roll call it was discovered that 109 prisoners were missing, making it the largest mass prison escape of the war. Fifty-nine of them, including William, made it back to Union camps, two drowned while crossing streams, and the other 48, including Colonel Rose, were recaptured.
We continue with William's confinement…

MAY 22 WWD "Still in prison at Libby, much out of heart this morning. Still hopes of getting away soon. There is an exchange made but none of us of the Provisional Brigade get to go."
JUN 1 WWD "Still in prison. We look for a boat. We think we shall leave this Hell on Wednesday evening. The prospect of getting out is hard. I pay one dollar for six eggs. I have my dinner today for the first time in prison."
JUN 9 WWD "Still in this Hell and no prospect of getting out soon."
JUN 19 WWD "Some prospect of getting out."
JUL 3 WWD "Still in Hell and no prospect of getting out soon…"
"Still in Hell and no prospect of getting out soon…"This is the only sentence entered day after day for weeks during his captivity.
OCT 22 WWD "Still in Hell and no prospect of getting out soon. Two letters from father and one from mother."
NOV 4 WWD "Beautiful weather this morning. Still in prison and but little prospect of getting out. I'm 30 yrs old today."
DEC - JAN 1 There are a few entries in William's diary in December and they say much the same as before. However, by New Year's Day there is a dramatic change in his daily journal.

1864

A page from William Wallick's prison diary
the week of January 1-8, 1864


JAN 1 WWD "On New Year's night '64 we proceed to dig out of prison. We made our way to the cellar. We worked steady until then closed up and went to bed. We divided our working party into two squads."

Jan 4 WWD "On the night of the fourth I dug myself."


JAN 6 WWD "On the night of the 6th the party made good progress. The wall is stone and timber. Our tools consist of (a) chisel and some old irons such as old hinges that we picked up in the cellar.

JAN 7 WWD "On the 7th we resolve to work every night. We have to use the utmost caution. We got through the wall. I made dirt fly all night. We have troubles with our lights (the candles lacked oxygen in the tunnels). I got a saw to cut thru timber with. This night I got forst (forced) in the hole through the fireplace but after a little scrambling I got out. Col. Streight comes up."
JAN 8 WWD "We get through the wall. Morgan comes to see us." This man, Morgan, is Confederate General John Hunt Morgan, who made a famous raid into southern Indiana and Ohio in the summer of 1863. Five Wallicks from Peru, Indiana were mustered into Federal service and helped pursue General Morgan and his daring Rebel raiders into Ohio (their story can be read in "The One Week Warriors" biography). He was eventually captured and sent to the Ohio State Penitentiary in Columbus. Morgan escaped that institution by tunneling out of the stone walled fortress on November 27, 1863. He returned to the South and received a hero's welcome because of his exploits. It is interesting that William refers to the General's visit, since the Union prisoners are about to escape from Libby the same way General Morgan escaped his Yankee captors, through tunneling.

JAN 11 WWD "We redouble our efforts."
JAN 12 WWD "We have much to contend with."
JAN 16 WWD "The work still goes on, the weather may stop our work."
JAN 23 WWD "We have trouble and cannot work because of the men and officers make so much noise they are arrested and stand 3 hours. We had to postpone work."
JAN 24 WWD "We work all day. Captain Hamilton and Colonel Rose are down all day."
JAN 25, 26, 27 WWD "Our work lays still."
JAN 28, 29 WWD "We lay still. Major Bates walks out today. Captain Porter out today."
JAN 30 WWD "Three more officers walk out. Our work lays still. We shall move soon. Major Bates is captured".
FEB 1 WWD "Our work is pushed along fast."
FEB 2 WWD "The rebs count us all the time. We think we shall go out Thursday night (Feb 4)."
FEB 3 WWD "The work is now finished. Today our tunnel measures 33 feet. This morning the rebels put flour in the cellar (this postponed work for a few days).
FEB 5, 6, 7, 8 WWD "The work still goes on, out the 9th. We are about through."
FEB 9 WWD "We shall leave here tonight. (Late that evening they escape). We have a hard time of it. We wade the Chickahominy (River). Spend the day in a swamp. I suffer with cold. I long for night to come so that we can travel."
FEB 11 WWD "We camp at a hill at the ______. Thursday we travel in the marshes."
FEB 12 WWD "Friday we travel all day and night. Get to Williamsburg Saturday (13th)."
FEB 13 WWD "We get dinner. We go down to Yorktown. We meet with much hospitality at Yorktown.
FEB 14 WWD "We get to Fort Monroe… We meet with much hospitality. We go to General Butler's quarters. We take the boat to Baltimore.

Fortress Monroe is a massive seven pointed fort with a moat surrounding it at the mouth of the James River. This is where William Wallick made his report to General Benjamin Butler after his escape. The fort was a crucial installation for the Union Army during the war and the officer in charge of building this impressive work was none other than Robert E. Lee. Fortress Monroe was an active military post until the fall of 2011.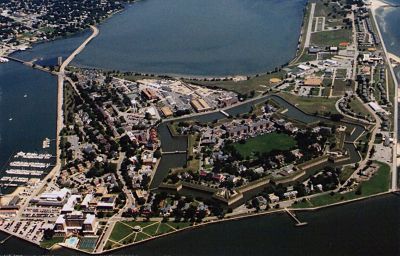 FEB 15 The former POW is granted a furlough home to rest and recuperate from his prison incarceration. WWD "Arrive at Baltimore. I suffer with sore feet. At Baltimore we take breakfast. Take the train for Washington at . Staying in Washington tonight.

FEB 16, 17, 18 WWD "We take the train for home (Peru, IN) at 6'o'clock. On the 17th Stay at Harrisburg (PA). 18th Stay all day at Bayard(?). His writing is illegible and thus ends the prison diary.


APR William's furlough is extended 30 days due to severe bronchitis and nephritis (inflammation of the kidneys).

MAY 2 William returns from his furlough and joins his regiment in Tennessee. He was promoted to captain June 30, 1863, while a prisoner of war

MAY 30 William is to command Company G.

JUN-SEP Duty at Chattanooga, Tennessee.
OCT Action at Dalton, Georgia, and pursuit of General Hood into Alabama.
NOV 30 Battle of Franklin The 51st is held in reserve and supports the Federal Army in its withdrawal to Nashville, Tennessee.
DEC 15-16 Battle of Nashville William's regiment is heavily engaged in battle for two days against the Rebel enemy. They make a charge atop Montgomery Hill and secure that residence, then they attack Brentwood Hill. By the end of the second day of battle the Confederate Army is totally routed, almost to the point of disintegration. It is a glorious victory for the Union Army. That evening, William and some of his comrades begin their preparations to leave federal service, however, most in his regiment have re-enlisted to become a veteranized unit. William has seen enough of war and returns home to his wife and baby daughter.
DEC 17 William is discharged from the army the day after his regiment's great victory at the Battle of Nashville and he begins his journey home to Peru, Indiana.

William returned to Peru, Indiana for a short time after the war, then moved his family to St. Johns, Michigan. He spent three years in St. Johns before going back home to Peru, where he continued his carpentry trade. For the rest of his life William suffered with chronic health problems due to his wartime battlefield and prisoner experiences. He died on August 31, 1892 at age 62, and is buried next to his daughter, Flora. She died of consumption as a fifteen-year-old girl in 1876. They are both buried in Reyburn Cemetery, Peru, Indiana.


Captain William Wallick
1864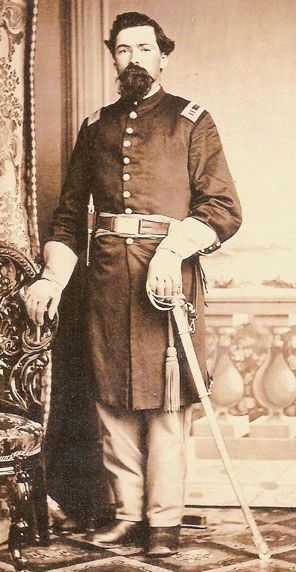 Comrades-in-Arms

Father
Benjamin Jr. 109th IN

Brothers
Charles F. 87th IN
John Wesley. 138th & 151st IN

Uncle
Wesley 109th & 138th IN
Christopher 109th IN

Cousins
Benjamin 162nd OH
William F. 13th IN
Jeremiah 109th IN
William is buried with his wife and daughter in the Reyburn Cemetery, Peru, IN.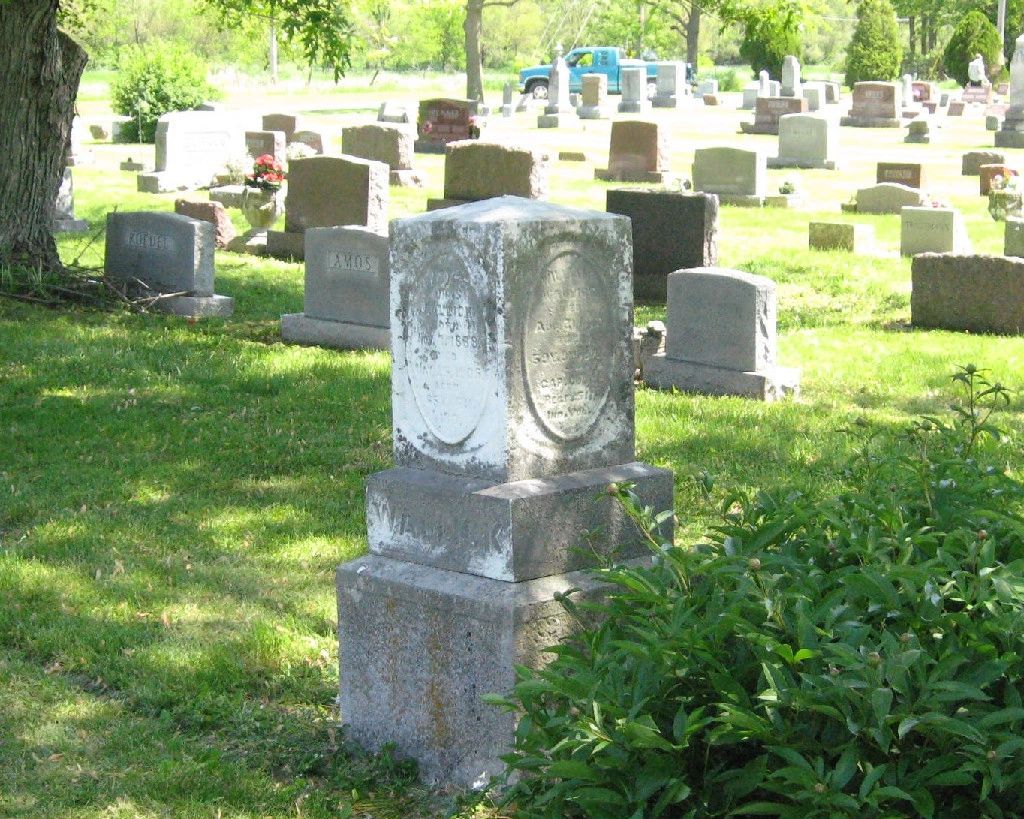 Enhanced Inscription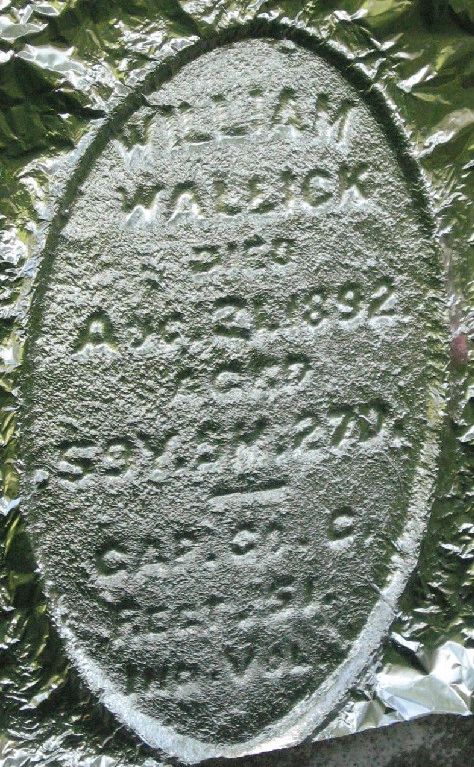 Obituary for Captain William Wallick





Song- Weeping, Sad and Lonely

Some regimental commanders forbid the playing of certain songs for they felt the songs contributed to homesickness and as a result, desertion. For example, in this song a sweetheart sings of her soldier and lover:

Weeping, Sad and Lonely- vs. 3
If amid the din of battle,
Nobly you should fall,
Far away from those who love you,
None to hear you call.
Who would whisper words of comfort,
Who would soothe your pain,
Ah! the many cruel fancies,
Ever in my brain.

Chorus
Weeping, sad and lonely,
Hopes and fears, how vain.
When this cruel war is over,
Praying! that we meet again.


Return to Top


Return to
Wallick Family Website