I received an order from you to hurry my regiment forward and form it in line on the left of our artillery, then hotly engaged with the rebel batteries. This order was promptly obeyed, and the men came up quickly and in good order, forming at the point designated. We were then under the enemy's fire, yet my men manifested great coolness and self-possession. We remained in line for two hours in support of the batteries, until the battle ceased for the night, and we lay down on our arms, but not to sleep, as we were in momentary expectation of a renewal of the combat. Soon after sunrise we were again in line and under the enemy's fire, in support of our batteries, until near 10 o'clock, when we were led forward to charge on the rebel lines. This movement was executed with great deliberation and accuracy, and when their lines were broken and they were driven in rout from the field, we were among the first to occupy their field. In the long and hotly contested fight of the afternoon, my regiment was all the time in the face of the enemy and under the severest fire. Three times we were ordered against the rebel infantry and under the range of his batteries. Each time we drove them from the field…
On May 16, the men were hastily marched toward Edwards Station to help cut off the Rebels retreat from the Battle of Champion Hill. This Confederate engagement was the most savage and hotly contested battle of Grant's entire Vicksburg campaign. Out of 54,000 troops engaged, total casualties numbered 6,297. The Second Brigade arrived at Edwards Station late in the evening and captured the Rebel's food stores and ammunition, plus 200 prisoners. With the Confederates' defeat at Champion Hill and loss of their supplies, the Rebels had no choice but to withdraw into Vicksburg. However, before they recessed into that fortified city, the secessionists made one last stand.


Given Abraham Wallick's past history with lameness, he could have had a very difficult time staying up with his company during these maneuvers. In a November 14, 1878 pension file, Abraham states,


Although I suffered much from my right leg and foot, I continued with my company marching through Mississippi and around about Vicksburg.


It is possible that he could have had trouble keeping up with his comrades and maybe arrived late into camp with the other stragglers. Stragglers were not necessarily individuals who refused to put forth the required effort or shirked their responsibilities. Yes, there were some soldiers who did fit that description, but sometimes soldiers failed to keep up with their units because their bodies would simply breakdown under the constant physical strain. Even today, the official Department of Defense definition of straggler is, "…any personnel, vehicles, ships, or aircraft which, without purpose or assigned mission, become separated from their unit, column, or formation." One needs to remember that the soldiers were usually carrying a full pack on their back, a ten-pound rifled musket and heavy weapon accoutrements while they marched. The activity was hard enough for a man in his prime. But Abraham was middle-aged, not very large and probably never had to walk so much in his life. As is the case with many injuries, once the physical damage has been done, it is very easy to reinjure the muscles and nerves. He may have been constantly aggravating his past injuries and in constant pain.

However, their accuracy failed them and only two men from the regiment were wounded. Earlier in the day, the
16th Ohio Battery was able to install two twenty-pound Napoleon guns at the crest of a hill near the regiment. The counter-barrage from this battery helped keep the Rebels cowering behind their fortifications. That evening, Colonel Stone received orders from General Grant to have his men move under the cover of darkness to a midway point between the lines. Quietly, the 22nd led others from their brigade over a hillcrest and down a steep ravine. It was slow work, for the Rebels had cut down trees and then carved the branches into sharp points so the Federal forces would get ensnared in the obstacle. This abatis (French origin) was the predecessor of barbed wire. Wading through the wooden obstruction took several hours, but they finally reach their designated positions. Quietly, they laid throughout the night with their weapons tucked beneath them. At 10:00 AM the next morning, Grant unleashed this Federal juggernaut across a three-mile front. But the Confederates had prepared well and were ready for the attack.

The May 22 assault on Vicksburg was the singularly most devastating engagement ever fought by the 22nd Iowa during the American Civil War. They were but a small part of a mammoth effort by the Union army to puncture a hole in the Confederate's defenses that surrounded the town. It was hoped that a victory on this date would avoid a prolonged siege at Vicksburg. At 9:30 AM, the 2nd Brigade, which consisted of the 21st Iowa, 22nd Iowa and the 11th Wisconsin, formed in column just south of the railroad cut. The 22nd Iowa was the lead regiment, followed by the 21st Iowa and then the 11th Wisconsin. At 10:00 AM, a signal cannon was fired and Colonel Stone, with the shout of "Charge," commanded the brigade to advance toward the Rebel works known as the Railroad Redoubt, or Fort Beauregard[5]. The enemy was not taken by surprise and calmly watched hundreds of gleaming bayonets advance toward them. Iowa's postwar publication, War of the Rebellion Official Records, Series 1, Vol. 24, page 130, gives an account of the attack at the Railroad Redoubt.


The strong work against which the main attack was directed covered about a half an acre of ground, the walls being about fifteen feet high, surrounded by a ditch ten feet wide. A line of rifle pits connected it with others of the same kind, each of which was so arranged as to enfilade the approach to the other. The regiment succeeded in reaching, under a concentrated fire of grapeshot and musketry, an almost impenetrable abatis, forty yards from the work, where it became necessary to reform the line, the men having become separated in crossing the obstructions. They [the 22nd Iowa] promptly rallied to the flag and were again leading the charge. Colonel Stone was there wounded, while gallantly directing the charge and was compelled to leave the field. Lieutenant Colonel Graham then assumed command and, with a few officers and about fifty men, succeeded in reaching the ditch surrounding the fort, but, having no scaling ladders, they were unable to enter the works. Sergeant Joseph I. Griffith, with some fifteen or twenty men, succeeded by raising one another up the wall, gaining an entrance and capturing a number of prisoners. But the fire from the enemy's rifle pits in the rear of the fort, and the lack of reinforcements coming to their aid, rendered the place untenable.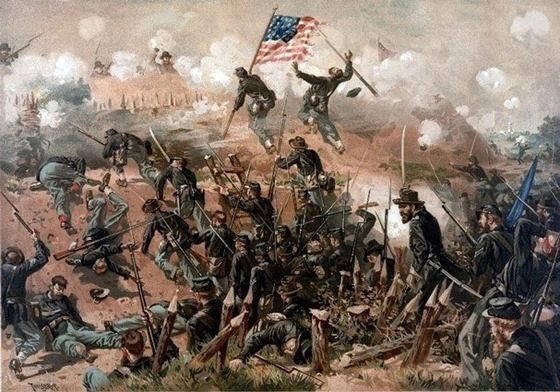 Thure de Thulstrup's painting depicting the May 22 Railroad Redoubt assault.

The attack was not well-supported and proved to be a failure with only a few survivors of the regiment able to retreat back to the Federal lines. Nevertheless, the three regiments of 2nd Brigade remained on the field, both receiving and returning enemy fire. They were anticipating a supply of reinforcements, but none arrived. The brigade stayed engaged until they exhausted their ammunition and were forced to withdraw.

Everywhere the Federals attacked that day failed. In fact, the men of 2nd Brigade were the only units to successfully penetrate and enter a fort along the entire Confederate front. The Iowans planted their flag on the Rebel parapet but could not hold the redoubt because they lacked support. The losses for the 22nd Iowa were 27 killed in action, 118 wounded (many of them would later die of their wounds) and 19 captured. They suffered the highest casualty rate of any attacking force at Vicksburg. In a postwar report from the Adjutant General of Iowa, he estimated "…the average loss in killed and wounded of the regiment was 85 percent of the numbers engaged."
Abraham Wallick's military files do not mention his participation in that day's events. It is clear he was with the regiment, but at that time, the number of soldiers fit for duty was very low due to illness and the effects of three weeks hard campaigning. And it could be that his age, height and past injuries may have prevented any consideration of him being part of the assault force. Height must be considered because at 5'3", his weapon with the attached bayonet would have towered above him, making Abraham far less agile and effective in combat. But there was still plenty of danger and hard work ahead for Abraham, now that the Federal's were reduced to waging siege warfare at Vicksburg.

From May 22 to July 4 the Confederate army and citizens of Vicksburg were strangled by a land blockade where all basic provisions were withheld. As the siege continued, even rats and horses were consumed to alleviate starvation. Soldiers and citizens alike carved dugouts into the hills to escape the round-the-clock bombardment of heavy siege gun and mortar shells that rained down on the city. Sleeping for all combatants, both friend and foe, was nearly impossible.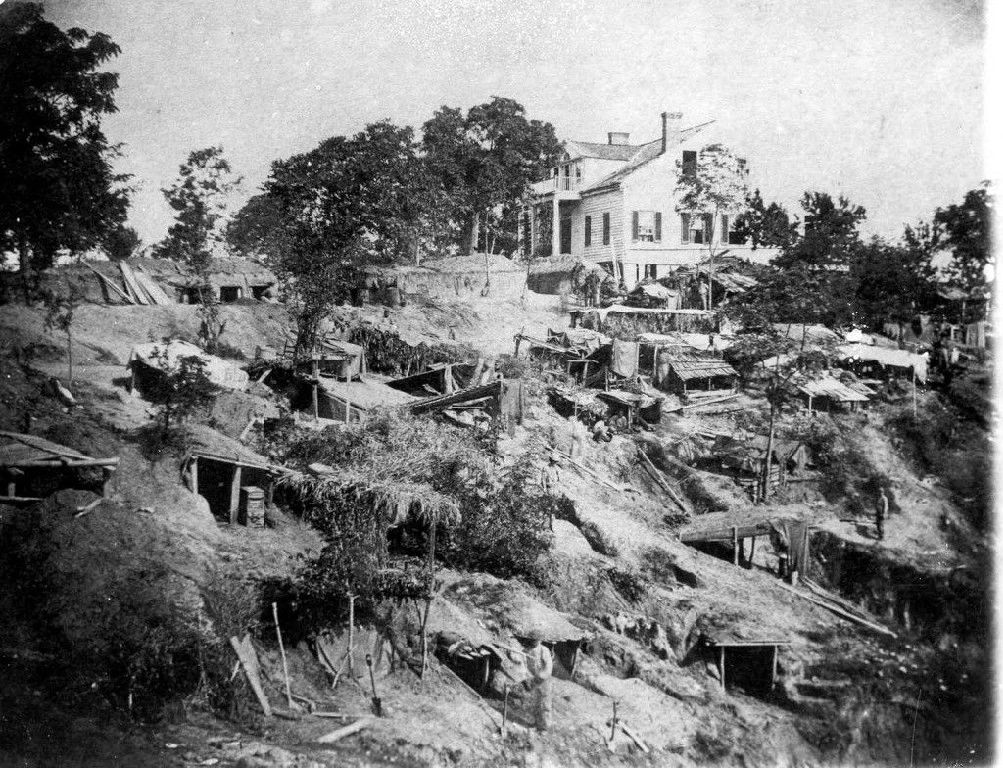 A neighborhood of dugouts in
Vicksburg during the summer of 1863.
The Union army was also digging. General Grant tried to use tunnels as a means to break through the Rebel earthworks. For millennia this was done in warfare so soldiers could enter a walled city from underground. Tunneling could also weaken the foundation of the walls so the ramparts would collapse, allowing entry into a city from above ground. The walls of Vicksburg were of earth, not stone or brick. Grant hoped to fill these tunnels with gunpowder and blow holes in the Confederate line.


Abraham Wallick was ideally suited to be a tunneler. A 6"8' man can have a huge tactical advantage on a battlefield but put the same man in a tunnel and he won't fare so well. As short sailors have an advantage in the submarine corps, so short soldiers have an advantage when tunneling. And a tunneler works primarily with his hands and arms, not legs and feet, where Abraham was impaired. Private Wallick speaks of his activity as a tunneler in his November 1878 affidavit.
On the last day of June, 1863, I was set to work in a mine [at] Vicksburg. I had mined several days and nights when one night, about midnight, the Rebels exploded a counter-mine to the right of us, which pressed in the side of our mine and threw dirt on us and around us. The concussion was so great that it stymied me so that I did not have full control of my senses and from which time I have been subject to dizziness, pains in the head and nervous affliction, generally. The concussion and weight of dirt upon my leg and foot did not materially affect them at the time but on the 7th of July, 1863, I was compelled to give up marching on account of pains. I stayed with the miners and sappers corps[6] for a day or two, then I went forward with my company to Jackson, Mississippi.


In this account, Abraham comments that his head was injured when the Confederates created an explosion in their counter-mine. Counter-mining was a common check against an enemy's burrowing activity. Usually, the army that had mines dug under their fortifications would start their own tunnels in order to disrupt the enemy's works. The challenge was how to locate the opposing mine. Abraham Wallick was caught inside or at least near a Federal tunnel when the Rebels detonated their counter-mine. In other pension files he mentions that not only was his head injured, but also his back. He was granted a week's rest to recuperate from the blast.
The official end to the siege of Vicksburg occurred on July 4, 1863. Even before that time it was obvious to all combatants that the Confederate stronghold could no longer resist. General John C. Pemberton, a 25-year career army officer, believed he could receive more generous terms from General Grant by surrendering the city on Independence Day. There was some truth to his logic. At first, General Grant only offered unconditional terms of surrender. But what was eventually negotiated was that all soldiers would be paroled and not taken as prisoners of war, staff and field officers would be allowed to take one horse, and all officers could keep their side-arms. Just under 30,000 Confederate soldiers, 172 cannon and 50,000 musket-rifles were no longer in the service of the Confederate government. With the loss of Vicksburg, the Father of Waters flowed freely from Minnesota to the Gulf of Mexico. Vicksburg was one of the most devastating defeats for the Confederacy. The city did not celebrate the 4th of July for another 81 years.


Abraham Wallick rejoined his Company D comrades at Jackson, Mississippi, on July 10. Due to the devastating number of casualties inflicted on the regiment, there were only 150 officers and men who were healthy enough to make the trek to Jackson. The regiment had become attached to the command of General William Tecumseh Sherman, who was overseeing the siege of Mississippi's capital. The 22nd Iowa (or more accurately, a remnant of the 22nd Iowa) was posted safely to the rear at Jackson and well behind the siege lines. However, this did not mean the men had hazard-free duty.


With his right leg and foot again recovering from lameness, and his head and back aching from the mine blast a fortnight before, Abraham became part of a detail ordered to tear up railroad track a few miles south of Jackson. His 1878 affidavit continues,


After the siege of Jackson, I was ordered with others, about the 14th of July, 1863, to tear up the RR track about 4 miles south of Jackson, Miss. While engaged in the work and after one side of the track had been lifted, by some mistake the RR track fell back upon us and pinned me down on the ground. The weight and strain was most severe on my right-side leg and foot, which caused my right leg and foot to swell so that I could not wear my shoe [and] pained me so bad that I had to ride a mule back to Vicksburg.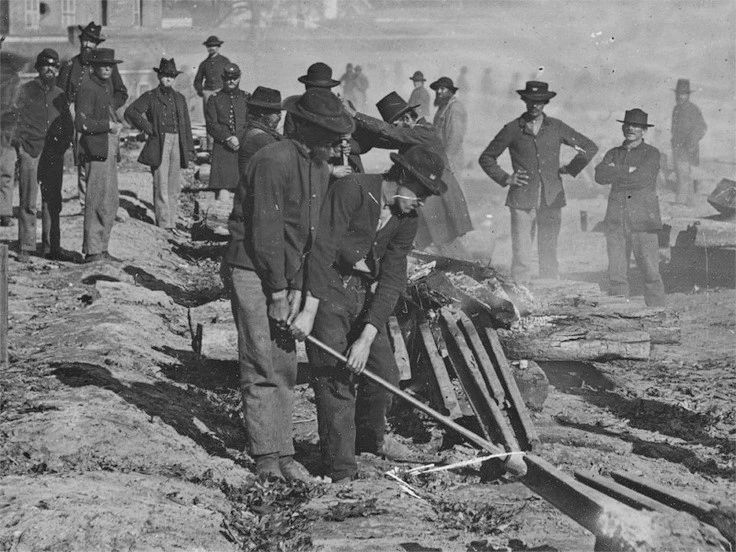 Union soldiers tearing up Confederate railroad track in Mississippi.
The accident outside of Jackson eventually put an end to Abraham Wallick's enlistment in the 22
nd
Iowa Volunteers. He remained in the regiment for six more months but it appears he was unfit for duty during most of that time. Jackson, Mississippi, was taken by the Federals on July 16. The regiment left the city and destroyed Rebel railroad track from the Mississippi Central Railroad all the way back to Vicksburg. On July 24, they arrived at the city and soon after their return, Colonel Stone submitted his resignation. He had been nominated by the Iowa Republican Party to run for governor and that November, he was successfully elected.


Abraham remained at Vicksburg for three more weeks. On August 13, the 22nd was steamed down to Carrollton, Louisiana (which is just a few miles upriver from New Orleans). They camped there until September 4, then the regiment boarded trains and moved to Bayou Boeuf, Louisiana. Immediately upon their arrival they were ordered on their feet and marched to Berwick. From Berwick they made an expedition to Lafayette, Louisiana, a road which follows today's US Route 90. During that journey the 22nd Iowa had several small skirmishes with the Rebels. After a respite in Lafayette, the regiment countermarched back to Berwick, arriving there November 10.
For the rest of November, the regiment bounced along the coastal islands of Texas. First, they steamed down to the mouth of the Rio Grande and camped at Brazos Island. Soon the men were ordered to march north and take the enemy's Fort Esperanza, at the entrance to Matagorda Bay. They arrived at that installation on December 1, ready to begin their assault. But the night before, the Rebels had already abandoned the post, allowing the Federal expedition to walk into Fort Esperanza unopposed. In mid-December, the 22nd Iowa marched to Decros Point, a settlement on the Matagorda Peninsula. They stayed there until January 3, 1864, when the men went into their winter quarters at the nearby town of Indianola. It is difficult to tell how well Abraham traveled with his regiment after leaving Vicksburg. The annals are void of any details. What is clear in his record is that he was with his regiment at Indianola, for it is was there that Abraham had his court-martial.


The military trial of Abraham Wallick is lean on specifics. We do know the date of the trial, January 20, 1864, and its outcome – guilty. Although he was convicted of being AWOL, he was excused from any consequences and after the proceedings, free to rejoin his regiment. A brief summary of the court's findings concluded that:


After a careful examination of the evidence adduced, the court finds the accused Private Abraham Wallick, Co. D, 22nd Iowa Vols, as follows:
Of the Specification – 'Guilty.'
Of the Charge – 'Guilty,' but we attach no criminality (as it appears he was quite unwell)[7] and direct he be returned to duty. Findings and sentence approved.


What caused this blot on Private Wallick's record was when Abraham marched from Aransas Pass, Texas,[8] to Fort Esperanza, he left his unit without telling either of his company or regimental commanders. The exact circumstances are not mentioned in his record, but it could be that Abraham's injuries had overtaken him to the point where, being unable to keep pace with his comrades, the common straggler became an absent soldier. He was AWOL between November 3, 1863, and January 12, 1864 (the day he rejoined his regiment). History is silent as to where he was during his absence. One can speculate that perhaps Abraham was somewhere in a south Texas field hospital and was slow or unable to notify his commanding officers. The leniency of the court would indicate that medical treatment was the cause for his absence. After his court-martial, the army transferred Abraham Wallick to the Invalid Corp. He officially joining that branch of the military on February 22, 1864.


The Invalid Corps had been in existence in some form during the days of the American Revolution. It was then disbanded and reactivated for three years during the American Civil War. Over 60,000 men served in the twenty-four regiments of the corps. The National Archives describes the units as:
Officers and enlisted men unfit for active field service because of wounds or disease contracted in the line of duty, but still capable of performing garrison duty.
Officers and enlisted men in the service and on the Army rolls otherwise absent from duty and in hospitals, in convalescent camps, or otherwise under the control of medical officials, but capable of serving as cooks, clerks, orderlies and guards at hospitals and other public buildings.
Officers and enlisted men honorably discharged because of wounds or disease and who wanted to reenter the service. The Invalid Corps was renamed the Veteran Reserve Corps (VRC) on March 18, 1864. Confusion with the damaged goods stamp "I.C." (inspected-condemned) affected volunteer morale.

[9]
One can understand how crates sent to the Invalid Corps could be inadvertently tossed if the army also used "I.C." as an abbreviation for inspected-condemned. The "I.C." designation quickly proved an impediment to the corpsmen. To alleviate the problem, the War Department renamed the unit Veteran Reserve Corps only weeks after Abraham joined Company I of the 3rd Regiment.


There were two classifications of soldiers in the corps. First, those who were partially disabled and their periods of service had not yet expired (like Abraham). And second, soldiers who were discharged because of disease, wounds or other disabilities but wanted to reenlist. The corps had their own distinctive uniforms and even brass bands for military ceremonies. Even so, to some there was a stigma attached to being members of the Veteran Reserve Corps.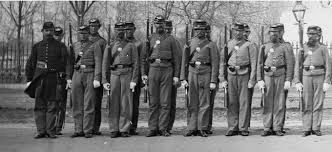 Members of the 10th Reserve Veteran Corps, Washington, DC.
The reality was that the VRC soldiers had many important responsibilities and their presence relieved more able-bodied troops for combat. Some VRC units were assigned provost duty (military police) in towns and cities. Provost soldiers from the corps became combatants in July of 1864 when Fort Stevens, just outside of Washington, DC, was attacked. This was a highly unusual and emergency measure for the VRC, for they were never to be employed as combat troops. That being said, without the corps' help, Confederate soldiers would have entered our nation's capital, causing a political and international crisis of immeasurable proportions. Later, units from the VRC were used to search for John Wilks Booth and were responsible for carrying out the executions of the Lincoln assassination conspirators.

Unfortunately, there is little to report on Abraham's service in the Veteran Reserve Corps. He certainly was not involved in any of the events that surrounded the attack on Washington, DC. To date, there is little information concerning his whereabouts and the activities of his unit. However, judging by rules of human gestation, Abraham must have had a furlough from his regiment sometime in the fall of 1864 for his son, Wallace, was born on July 26, 1865.[10] Other than that documented event, little is known about Abraham Wallick from his entry into the Veteran Reserve Corps on February 22, 1864, to his Burlington, Vermont, discharge on July 14, 1865.[11]


In the 1880s, the War Department gathered company muster rolls, hospital records, descriptive rolls, pay records and enlistment papers to create a soldier's Compiled Military Service Record. This was done in part to help verify pension applications. All the infantry, artillery and cavalry units were later microfilmed for preservation and public distribution. However, the Compiled Military Service Records of the Veteran Reserve Corps have yet to be filmed, making for a void in the knowledge about those soldiers' service in the corps.


After his discharge, Abraham Wallick traveled from Burlington, Vermont, to Fulton County, Illinois, to rejoin his family. Fulton County had a history with Abraham and his wife. Mary Hazel (Johnson) was born there in 1835 and in 1850, the 15-year-old bride and 31-year-old Abraham established their first home in Fulton County. In 1853, the couple and their infant daughter, Elizabeth, moved to the sparsely populated prairie town of Albia, Iowa. They lived in a cabin (presumably built by Abraham) in a wooded section of the prairie that was frequented by packs of timber wolves. By the time the Iowa carpenter had left for war, he had fathered eight children, six children were already born and twin boys were on the way. Indeed, Mary must have been a very brave and determined woman to accept the responsibility of governing, as a single mother, such a lively brood during Abraham's three-year absence. With the father off fighting Confederates, it is not surprising that after the twins were born Mary and the children went back to Fulton County to live with her brother, the Reverend Elijah Johnson. Abraham reconnected with his family in Illinois after the war and between 1865 and 1868, two more sons and a daughter were born in Fulton, County.


In 1868, with a serious war disability and eleven children under age sixteen, Abraham sold most of his family's possessions and with a covered wagon, two horses and a cow, he began a migration across the plains of Iowa. After traveling three weeks and 250 miles, the weary settlers stopped at Seward County, Nebraska. They were truly a family of pioneers, being content to live in a 10x14 rough slab board house that was dug into a ravine. There were few comforts and many privations. The following year Abraham added a room to the structure and a year after that, Abraham and Mary had twin girls, Addie and Jane. The following record is a list of the thirteen children born to Abraham and Mary Wallick between 1853 and 1870. Those not born in Fulton, County, or Iowa City, were born in a cabin on the prairie.


Elizabeth Victoria- b: 25 Feb 1853, Fulton County, Illinois
Christian J – b: Aug 1854, Iowa City, Iowa
John Franklin- b: 04 Mar 1855, Monroe County, Iowa
Sarah Ellen- b: 01 Apr 1859, Iowa
Abraham Moses- b: 1860, Illinois
Martha Viola- b: 28 Jan 1862, Iowa
Elijah Scott- b: 14 Mar 1863, Albia, Iowa (twin)
William Melville- b: 14 Mar 1863, Albia, Iowa (twin)
Wallace Grant- b: 26 Jul 1865, Fulton, Illinois
Mary Louisa- b: Nov 1866, Fulton, Illinois
Henry C- b: 1867, Fulton, Illinois
Addie Ada- b: 10 May 1870, Seward. Nebraska (twin)
(Amanda) Jane K- b: 10 May 1870, Seward Nebraska (twin)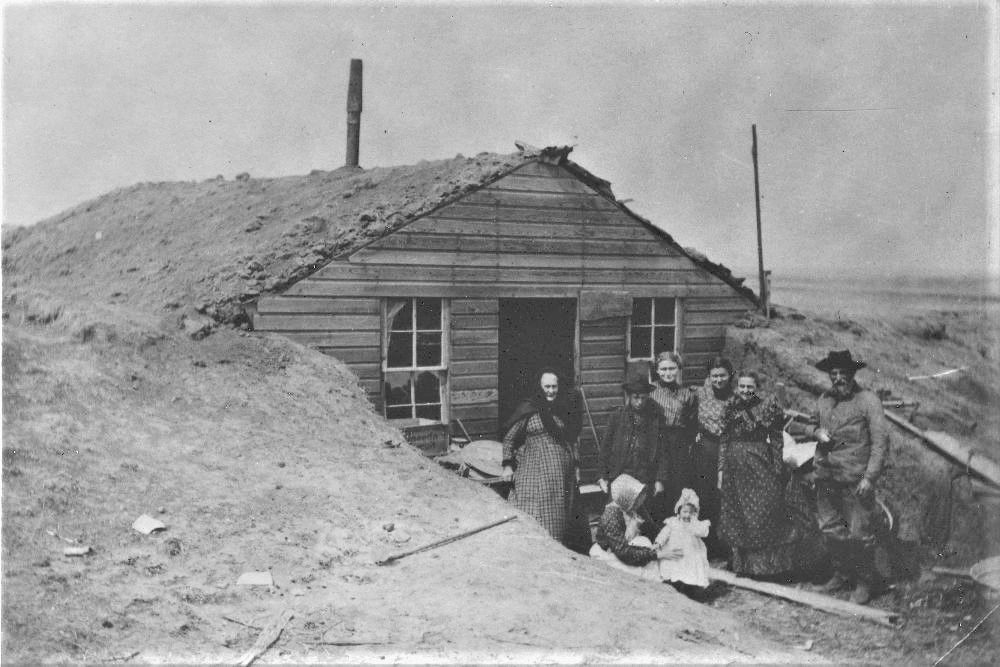 Prairie dugout similar to what Abraham Wallick would have built.
Having a wife and thirteen children must have been quite a burden for the old soldier to bear (although, in 1870, the seventeen-year-old Elizabeth was married). But Abraham's life became even more burdensome when Mary, only 36 years-old, contracted pneumonia and died on February 21, 1871. The infant twin girls were only nine months old at her passing. Mary is memorialized in the 1888 book, History of Seward County, Nebraska,

[12]

where it states, "Mrs. Wallick is remembered by all the older settlers as a very worthy Christian lady, who went through great tribulation to her brighter home in the skies to receive her crown."


Mary's death destroyed the family's unity. Abraham's twelve-year-old daughter, Sarah Ellen, had nursed her ill mother while caring for her infant sisters. Sarah stayed on the homestead to help her father while all the remaining children were dispersed to other households. It was impossible for Abraham to care for such a large family by himself. As for the children, they not only lost their mother in 1871 but their entire family structure was undermined with the separation of the siblings. All were placed in different homes, except the twin boys, Elijah Scott and William Melville, who were raised by an aunt. Even the twin girls were separated, with Jane becoming the foster child of Joseph and Lucy Kimball, who gave her the new name of Amanda Jane.


From the time he was discharged in 1865 to the time of his death, Abraham Wallick received a military pension as compensation for the disabilities he acquired while in the service of his country. However, starting in 1878, he had to submit affidavits and doctors' examination certificates in order to continue his pension. Through these pension documents, we are able to learn the details of how and where Abraham was injured during the war. These affidavits also help cast a light on his medical condition as he grew older. One such document was written to the Board of Pensions by his minister, Revered E.W. Johnson (most likely his son-in-law), of the United Brethren Church. It states the following:


Seward, Neb. Aug 19, 1880


Dear Sir,
In answer to your questions [I] would say that Mr. Abraham Wallick at the time of his discharge and since up to [this] date has been lame in one of his legs, which he says was injured while in the service of the [U]nited [S]tates. Last summer there was quite a while that he could not walk at all. He is also troubled with a dizziness in his head which he claims is caused from an explosion in a mine at Vicksburg. He is a carpenter and from the two ailments he is rendered almost worthless as such, [and] I would further add that his complaints are growing worse every year. While I offered him a job of painting (which he also understands) he painted ½ day and had to give it up, [for] he could not stand on the ladder. My judgement is that since his discharge, he has been disabled at least one half, say $20 or $25 per month.


Respectfully yours,
Rev. E.W. Johnson
U.B. Minister, Seward, Nebraska


There are other affidavits on file that speak to the difficulties Abraham encountered when preforming any tasks of physical labor or long periods of concentration. After the war, he never totally healed in body or mind. The day after his July 14, 1865 discharge, Abraham received his first pension payment of four dollars. As the years progressed there were increases to these monthly allotments. Unfortunately, those increases never kept pace with the wages he lost due to his injuries. On March 16, 1882, his payment was raised to six dollars per month and in 1890, eight dollars per month.


Abraham remained on his 85-acre homestead until 1881, then he moved to the town of Seward, Nebraska. It could be that the property required too much work for the old carpenter to stay on his land. Abraham first boarded with Henry and Mary Miller, then with his twin sons. This move also made it more convenient for Abraham to attend his Grand Army of the Republic meetings, where he had been a founding member.[13]


Abraham Wallick died on January 17, 1892. The Blue Valley Blade,[14] a local Seward newspaper, published his obituary soon after his death. He was part of a brotherhood that helped keep our republic united and a generation that understood the meaning of duty, honor and sacrifice. Abraham lived a hard life, but it was a life full of incredible experiences. He left a rich heritage.
The last surviving photograph of Abraham Wallick and his wife, Mary. This picture was taken shortly before Mary's death. Abraham and Mary are seated. Standing behind Abraham are Mary's sister, America (Johnson), and her husband, Thomas Skillman. Standing behind Mary are her sister-in-law, Sarah Jane (Street) and her brother, the Reverend Elijah Johnson, whom she would visit in Fulton, County, Illinois. All were amongst the earliest settlers in Nebraska.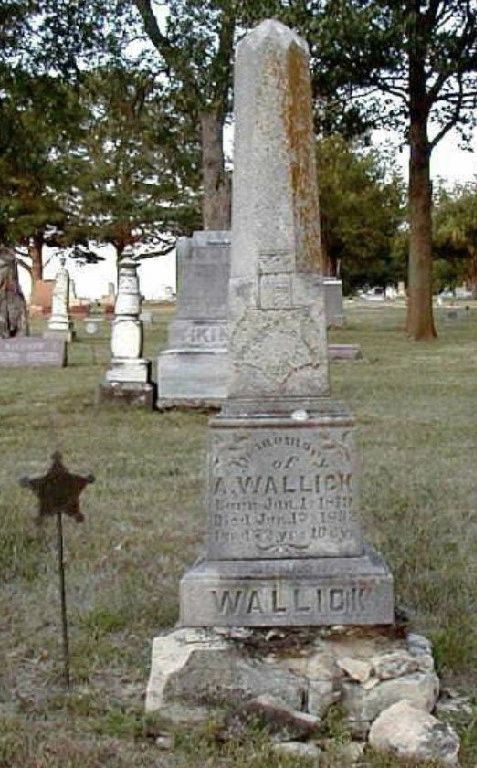 Abraham Wallick is buried in Seward Cemetery, Seward, NE.
Obituary
Comrades-in-Arms

No brothers or first cousins

Web page Song: Weeping, Sad and Lonely


This song was forbidden to be sung by some regimental commanders, for they felt the lyrics contributed to homesickness and as a result, desertion. Below is verse three, where a young sweetheart sings of her soldier and lover whose is mortally wounded on a distant battlefield.


1st Verse "Dearest love, do you remember,


when we last did meet,
How you told me that you loved me,


kneeling at my feet?
Oh! how proud you stood before me,


in your suit of blue,
When you vow'd to me and country,


ever to be true." Chorus
"Weeping, sad and lonely,
Hopes and fears, how vain.
When this cruel war is over,
Praying! that we meet again." 2nd Verse When the summer breeze is sighing,


mournfully along,
Or when autumn leaves are falling,


sadly breathes the song.
Oft in dreams I see thee lying,


on the battle plain,
Lonely, wounded, even dying,


calling but in vain." Chorus

Verse 3
If amid the din of battle,

Nobly you should fall,
Far away from those who love you,
None to hear you call.
Who would whisper words of comfort,
Who would soothe your pain,
Ah! the many cruel fancies,
Ever in my brain.
Chorus
Acknowledgements
I want to first thank my brother Scott A. Wallick and Karen Wallick Anderson for providing the genealogical materials for this article. They helped prove that Abraham Wallick was a descendant of Hans Michel Walck (Wallick). And I am very appreciative of Lisa Marquise for her willingness to share her family's history and the photograph of Abraham, Mary and her family. Abraham's personal military history was gleaned from his Compiled Military Service Records and Bureau of Pension documents, which are housed in the Nation Archives at Washington, DC. The regimental history of the 22nd Iowa was drawn from, Roster and Record of Iowa Soldiers in the War of the Rebellion, and, Historical Sketches of Volunteer Organizations, 1861-1866. Des Moines: E. H. English, State Printer, 1908-11.


Vanishing Footprints, The Twenty-Second Iowa Volunteer Infantry in the Civil War, by Samuel D. Pryce, edited by Jeffry C. Burden. Iowa City, Iowa: Camp Pope Publishing, 2008.
From Vicksburg to Cedar Creek, The 22nd Iowa Volunteer Infantry in the Civil War, by Thomas P. McKenna. Iowa City, Iowa: Camp Pope Publishing, 2014.