The One Week Wallick Warriors of Co. F,
109th Indiana Volunteer Infantry

Benjamin Jr. Wallick- age 59, Private
Christopher Wallick- age 48, Private
Wesley Wallick- age 44, Private
Jeremiah Wallick- age 31, Corporal
William F. Wallick- age 22, 2nd Lieutenant


All Soldiers Volunteered in Miami County, Peru, Indiana

Service Time:  One Week: July 10-17, 1863

Born in Tuscarawas County, Ohio - Benjamin Jr, Christopher, Wesley and William F.

Born in Miami County, Indiana - Jeremiah

Mustered into Federal service: July 10, 1863


Family Lineage
All soldiers are sons and grandsons of "Peru" Benjamin, son of Johannes, son of Hans Michael and Esther Wallick 


This is an unusual story of how five Wallick men from Peru, Indiana, (their age differences spanning almost forty years) became soldiers in the same regiment for only one week in the summer of 1863.  


                                                                                   General John Hunt Morgan

 
The story begins with a very cunning and brilliant Confederate Cavalry commander,  General John Hunt Morgan, who was born in Alabama but raised in Kentucky.  General Morgan was everything one would expect in a stereotypical sketch of a nineteenth century southern-gentleman cavalry officer.  He was intelligent, handsome, daring, self-confident and impetuous to a fault, which sometimes got him into serious trouble.  Once, while a student at Transylvania College in Lexington KY, he was suspended for dueling.  He fought bravely in the Mexican War and afterwards became a successful  businessman.  When the Civil War  exploded Kentucky became  neutral, but he declared himself loyal to the Confederacy and organized a cavalry regiment for the Confederate States of America.  

 
  
         The " Wallick Five" in the 109th Indiana Volunteer  Infantry

JUL 10 - 17   The summer of 1863 sees one of the most spectacular cavalry raids of the entire Civil War.  Confederate General Braxton Bragg orders General John Hunt Morgan to conduct a raid from Tennessee into Kentucky so as to distract the Union forces who are moving against Vicksburg, Gettysburg and east Tennessee.  Bragg orders that  under no circumstances are General Morgan and his cavalry to cross the Ohio River.   After raiding numerous towns, attacking Union supply depots and destroying thousands of dollars worth of both personal and government property in Kentucky, General Morgan exceeds General Bragg's orders and crosses the Ohio River at Brandenburg, KY.  He does this believing  that bringing the war to the northern people will help encourage the Copperheads (peace democrats of the north) and rally them to the cause of the Confederacy.  On the evening of July 8th, Indianapolis receives word of Confederate invaders moving toward Croydon, Indiana.  Citizens are called upon to organize for defense and by July 10th, thousands of men from across Indiana have volunteered for service.  From these "Indiana Minute Men" thirteen regiments are formed, the 109th Indiana Volunteer Infantry being one of them.  Five Wallicks from Peru are soldiers in this home guard and are mustered into Federal service on July 10th.   These five "One Week Warriors" are, from eldest to youngest, Benjamin Jr.- age 59, Christopher- age 48, Wesley- age 44, Jeremiah- age 31 and William F. age 22.  All are in company F.  Although he is the youngest of the five, William F. is the only officer in the group.  He is a 2nd Lieutenant, Jeremiah is a corporal and Wesley, Christopher and Benjamin are privates.

                         Route of General John Hunt Morgan's daring July, 1863, raid.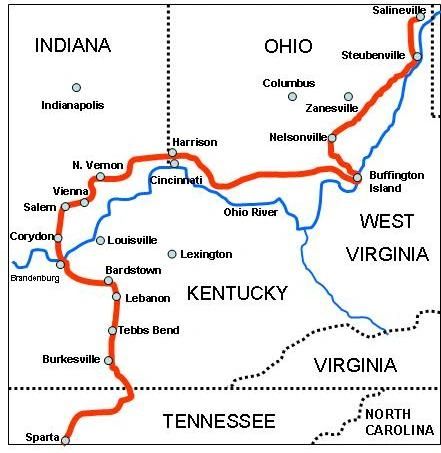 JUL 13   The 109th leaves Indianapolis on July 13th for Hamilton, Ohio, and moves south towards Cincinnati.  By then General Morgan has galloped out of the region and the regiment returns to Indianapolis.

JUL 17   With the Confederate threat to Indiana ended, the 109th is mustered out of Federal service at Indianapolis. 

Epilogue   General Morgan will move through central and southern Ohio destroying bridges, railroads and government stores.  He is finally captured on July 26, 1863, near West Point, Ohio.  The General and his men have ridden over 1000 miles in 46 days, from Tennessee to northern Ohio.  After his capture he is sent to the Ohio Penitentiary in Columbus.  Within weeks he and six others make a dramatic escape  by tunneling from his cell into the prison yard and scaling the penitentiary walls.  He is able to return home to the Confederacy and is hailed a great war hero in the South, except by General Bragg, who is still angry at Morgan for defying his orders.  William Wallick of the 51st Indiana writes from Libby Prison on January 8, 1864,  that General Morgan has come to see the prisoners (it is well documented in history that General Morgan did go to Libby Prison and visit prisoners that day).  William and his comrades are  digging their own escape tunnel  and William simply writes "We get through the wall (basement wall of the prison).  Morgan  comes to see us".

              General Morgan and his raiders riding through Old Washington, Ohio.
                                                        

                                                             from Harper's Weekly, Saturday, August 15, 1863
   Song- Battle Hymn of the Republic 
                                              Return to Wallick Family Website