Benjamin Wallick: 162nd Ohio National Guard, Co. K


Rank: Corporal


Place of enlistment: Canton, Ohio

Mustered into Federal service: May 2, 1864

Service time: 100 Days

Born: January, 1828 - Dover, Ohio

Age at enlistment: 35 years old

Height: 5'10", dark hair, gray eyes

Civilian occupation: Wagon maker

Family Lineage:
Benjamin, son of George, son of "Peru" Benjamin, son of Johannes, son of Esther and Hans Michael Wallick


In 1841, when Benjamin Wallick Sr. (AKA "Peru" Benjamin) moved to Miami County, Indiana, George, one of his five sons, did not go with him but stayed in Tuscarawas County. He was a carpenter who built canal boats in Dover, Ohio, a small town on the Ohio-Erie canal system. Canals were the super-highways of the mid-nineteenth century and this particular canal wound its way from the Ohio River through the eastern heartland of the Buckeye State and on to the shores of Lake Erie.

Canal boat and towpath on the Ohio-Erie Canal System.
Boats such as these were George's specialty.


In 1828 George had a son, Benjamin, who became a carpenter like his father and specialized as a wagon maker. By the spring of 1864 Benjamin and his wife Ann had moved northeast of Dover to Magnolia, Ohio, a small village on the Stark-Carroll County border. While living there, the thirty-five-year-old was called to active duty during the Civil War as a member of the Ohio National Guard.

In the spring of 1864 General Grant began what we now call his Overland Campaign. He wanted to press the Confederate armies simultaneously on all fronts, which would stretch the Rebel resources to their limits and prohibit them from reinforcing one another. In order to implement this strategy Grant needed a great infusion of new troops. President Lincoln asked the state governments for 300,000 more men to serve as One-Hundred Day Volunteers to help bolster the manpower needs of the army. These soldiers were placed mostly in the rear areas to help secure railroad lines, guard prisoners and perform duties that were very necessary, but far less hazardous. This also released more experienced veterans for frontline combat. Ohio called up 35,000 militiamen for 100 days to serve as Federal troops in May, 1864. "Stark County" Benjamin was one of these soldiers. David Wallick, from Van Wert County, was another guardsman who served 100 days that summer.

There is little known about Benjamin's service other than he spent all his time in Columbus, Ohio, at Tod Barracks. This was one of five army posts in the Columbus area and served as a new recruiting station, administration headquarters and a center where soldiers were mustered-out of their Federal service. It had a parade ground that was flanked by six barracks, a hospital, mess hall, guardhouse, officers' quarters and could accommodate up to 5,000 troops. Benjamin could have performed any number of duties while posted there. Tod Barracks was on nine acres near today's intersection of High and Goodale Streets, where the Columbus Convention Center is located. Only four companies from his regiment drew this assignment; the rest were sent to Carrollton and Covington, Kentucky for their service.

Compiled Service Card for Benjamin Wallick from the National Archives.





Benjamin Wallick with the 162nd Ohio Infantry (National Guard)

1864


MAY 2 Benjamin's Ohio National Guard unit is mustered into Federal service at Camp Chase in Columbus, OH for 100 days and posted just a few miles away at Tod Barracks. All but one company of the 162nd Ohio Volunteer Infantry (National Guard) are from Stark County, OH and most are men of wealth or from wealthy families .
Companies "A", "C", "F", and "K" remain at Tod Barracks while all the other companies move to Covington and Carrollton, KY. Soldiers in those units search for Moses Webster's men, arrest prominent Confederates and help in the recruiting of the 117th United States Colored Troops.

Tod Barracks before its demolition in 1911.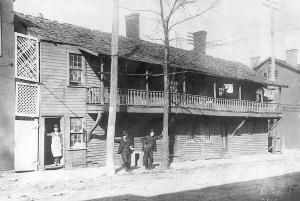 Tod Barracks historic marker outside the Columbus Convention Center


SEP 4 After 100 days in Columbus, OH, Benjamin is mustered-out of Federal service and the regiment returns home to Stark County. The regiment has lost 20 men to disease.



Benjamin Wallick spends the rest of his life as a carpenter.in Magnolia, Ohio and dies on June 20, 1920 at age 92. He lives to be the oldest Civil War veteran from the Wallick family.


Benjamin Wallick is buried in the Magnolia, Ohio Cemetery.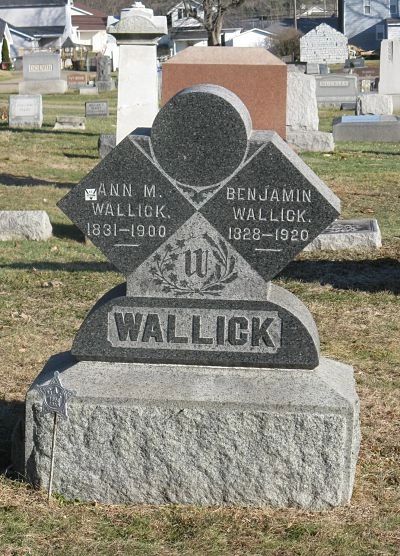 Comrades-in-Arms

Uncles
Benjamin- 109th IN
Christopher- 109th IN
Wesley- 109th & 138th IN

Cousins
William- 51st IN
Charles F. - 87th IN
John Wesley- 138th & 151st IN
Christopher- 109th IN
Jeremiah- 109th IN
William F.- 109th, 13th & 151st IN


Song: Battle Hymn of the Republic




Return to Top


Return to Wallick Family Website