"John" Wesley Wallick: 138th Indiana, Co. A
151st Indiana, Co. D

Rank: 138th Indiana- Private promoted to 3rd Corporal
151st Indiana- Private

Place of enlistment: 138th Peru, Indiana
151st La Porte, Indiana

Mustered into Federal service: 138th Indiana- May 27, 1864
151st Indiana- January 28, 1865

Service time: 138th Indiana-100 Days
151st Indiana- 7 months

Born: January, 1843/44 - Miami County, Indiana

Age at enlistment: 20 years old

Height: 5'10", brown hair, hazel eyes

Civilian occupation: Miller

Family Lineage:
John Wesley, son of Benjamin Jr., son of "Peru" Benjamin, son of Johannes, son of Esther and Hans Michael Wallick

It appears that two persons living in Peru, Indiana in 1864 would answer to the name, Wesley Wallick. Both served for 100 days in the same unit of the Union Army (138th Indiana Volunteer Infantry, Company A). This fact, compounded by errors written in family histories and on government documents, required hours of research to resolve. Once the two soldiers' service records were obtained, the simple truth became obvious: the two Wesleys were a generation apart and were uncle and nephew to each other. One Wesley was a forty-five-year-old 1st lieutenant, while the other was a twenty-year-old private. Fortunately, different given names were consistently used in their military records, Wesley Wallick for the uncle and John W. Wallick for the nephew. In civilian life Wesley Wallick "the Elder" (1819-1890) was simply called Wesley in most documents. His nephew, John Wesley Wallick "the Younger" (1844-1889) answered to both John and Wesley throughout his life. The interchangeable usage of his given name caused most of the problems in writing this soldier's story. John Wallick or John W. Wallick will be used in this biographical sketch when referring to nephew John Wesley "the Younger".

John Wallick was a brother to William Wallick of the 51st Indiana Volunteer Infantry and twin brother to Charles Fletcher Wallick of the 87th Indiana Volunteer Infantry. Both William and Charles volunteered in 1861 and spent three years in the South fighting against the Confederacy. The two regiments became famous after the war because of their distinguished service. William was also well-known for being one of 109 Union prisoners-of-war who tunneled out of Libby Prison in the winter of 1864. Brother Charles was wounded in the left hand at the Battle of Chickamauga and participated in General Sherman's "March to the Sea". Charles was also in Washington D.C. for the Grand Review of the Union Armies at the close of the war.

Although the pictures below are of poor quality, they are the only ones known to exist of John W. Wallick and his twin brother, Charles. John's mother, Eliza, and his wife, Rebecca, are also pictured. This photograph was taken c.1879 at the Wallick homestead on Little Pipe Creek. The picture is from a collection of Wallick memorabilia that his housed in the Miami County Historical Society, Peru, Indiana.




The Wallick homestead was built by Benjamin Wallick in 1853.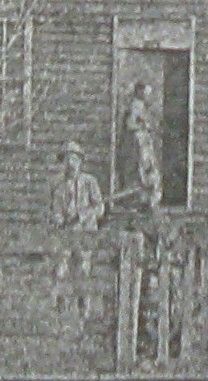 John W. Wallick Twin brother Charles F. Wallick
John's mother, Eliza, is in the John's wife, Rebecca, is by the fence
doorway. John is holding the rifle. and Charles is in the background.

In the spring of 1864 thousands of men enlisted for 100 days to help support the Union Army's grand offensive. General Grant wanted to mobilize as many troops as possible so they could attack the Confederate armies on multiple fronts. Tens of thousands of fresh troops and state militias were called into service to strike one mighty blow against the Confederacy. Simultaneous attacks in the eastern and western theatres of the war were coordinated so the North could take advantage of its superior numbers in manpower. For the most part these new recruits were given rear echelon assignments so the more experienced veteran soldiers could be made available for combat operations. Unfortunately, the Federal troops were out-maneuvered by General Robert E. Lee at Petersburg, Virginia and forced into a siege of the city, which negated the numerical advantage of the North and prolonged the war for yet another year. It was during this final year of the war that John Wallick twice enlisted in the Union Army, always joining with a relative.

John's first enlistment was with the 138th Indiana Volunteer Infantry. Here he served as a private for three weeks, and was then promoted to 3rd Corporal. His uncle, Wesley Wallick, was a 1st lieutenant in his company. The two immediately went south with their regiment to the state of Tennessee where their primary responsibility was security for the southern Tennessee and northern Alabama railroads. There appears to be no extraordinary military action during their 100 days of service.

Three months after his discharge from the 138th Infantry, John enlisted for a second time in the 151st Indiana Volunteer Infantry. The war was drawing to a close but there was still a great need for new recruits, since three-year veteran enlistments were beginning to expire. A one-hundred-dollar bounty was paid by the U. S. Government to each recruit for one year's service. The duties that John and his new regiment performed were similar to those of the 138th, however, twice he was detached from the 151st for special assignments. John enlisted at the same time as his cousin, William F. M. Wallick, although they served in different companies of the regiment. For some very complicated reasons, William F. enlisted in the 151st as William H. Wallick. His interesting but confusing service record is detailed in the William F. M. Wallick biography.

A Tale of Two Wesleys

Two examples will illustrate the special care one must take when examining the records of John Wesley Wallick. (1) John Wallick "the Younger" is simply called Wesley, his uncle's preferred name, in the 1870 United States census. Without a doubt this person is nephew John Wesley for he is living in the household of his father, Benjamin, and twin brother, Charles. Both Charles and Wesley are recorded as being twenty-six-years-old in the census. (2) Wesley "the Elder" is called John W. Wallick, his nephew's preferred name, on a headstone application from the Veterans Administration written in 1890. Certainly this is Wesley "the Elder" who received the headstone and who is buried in the Dayton National Cemetery. It is rare to find Wesley "the Elder" referred to as John, but there are many instances where John Wesley "the Younger" is called Wesley, John or a combination of both. All this is to say that when researching Wesley Wallick or John Wesley Wallick from Peru, Indiana, one must always take into consideration the historical context.

The 1870 census where John W. Wallick is named "Wesley" (third row
from the top). William Wallick and family are at the bottom of the page.


Wesley Wallick's headstone application from the Dayton National Cemetery.
He is named John W. Wallick on the document, but this is an error.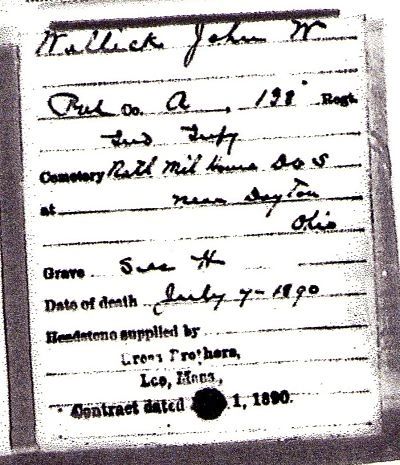 John W. Wallick with the 138th Indiana Volunteer Infantry

1864


MAY 11 Private Wallick reports to Camp Morton in Indianapolis, IN.


MAY 27 The 138th Indiana Volunteer Infantry is mustered into Federal service and John Wallick is promoted to 3rd Corporal.

MAY – SEP John and the 138th travel south, to Tennessee and Alabama, where their primary responsibility is railroad guard duty. No hostile action is reported but there is always the threat of confronting Confederate guerrillas.

SEP 22 John Wallick is mustered out of Federal service in Indianapolis, IN. The regiment has lost 8 soldiers to disease.


John W. Wallick with the 151st Indiana Volunteer Infantry

1865

JAN 28 John Wallick enlists in the Union Army for one year at La Porte, IN. He is assigned to Company D of the 151st Indiana Infantry. He will soon be joined by his cousin William F. M. Wallick (known as William H. Wallick in the 151st Infantry). William H. begins as a private but makes an astonishing leap in one promotion to the rank of sergeant-major. William and John will each receive 1/3 of their $100 dollar bounty upon enlistment.

John W. Wallick's enlistment papers dated January 28, 1865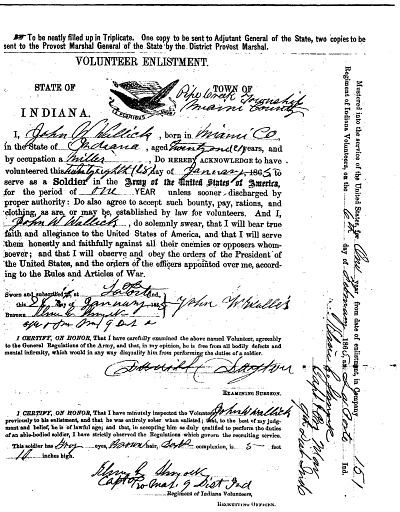 MAR 3 John and the 151st Indiana Infantry are mustered into Federal service at La Porte, IN.

MAR 6 Private Wallick and his regiment leave for Nashville, TN.

MAR 14 – JUN 14 The 151st has duty at Tullahoma, TN guarding Union supplies and railroads. Tullahoma is an important railroad terminus in the mid-South.

MAY 15 - JUN John Wallick is assigned to cattle guard duty. Cousin William F. Wallick (alias William H. Wallick) is promoted by Special Order #13, Regimental Headquarters, from private to sergeant-major.

JUL- AUG Private Wallick is detached from his regiment and detailed a teamster at post headquarters. An interesting note is placed in his record; "stoppage, one canteen". Perhaps this was a disciplinary action. Any loss of water in the middle of summer certainly gets one's attention. Or it could mean that he had stoppage of pay to replace one canteen. A very minor point to be placed in one's company record.

AUG - SEP 19 The regiment moves back to Nashville, TN and has garrison duty there until they are mustered-out on September 19, 1865. John receives $33.66 as a final payment from his enlistment bounty. Although the regiment has seen little action and what one might consider light duty, in seven months the regiment has lost 66 men to disease. John Wallick returns home to Miami County, IN where he continues to help his father at the mill.

In 1874 John Wallick married Rebecca A. Buskirk, a lady with a strong sense of family history. Before her passing in 1943, she had donated to the Miami County Historical Society Museum pictures, letters and household possessions once owned by the Benjamin Wallick pioneer family. Among those items donated were Benjamin's trundle bed, a few dishes that belonged to John's mother Eliza, and some personal letters. A few of these items are currently on public display at the museum and others may be viewed by appointment.

John's parents, Benjamin and Eliza Wallick, owned this trundle bed.
Rebecca Wallick Berry donated it to the Miami County Historical Society in 1917.




A Spode cup and saucer
from Eliza Wallick's kitchen. Benjamin Wallick's candle mold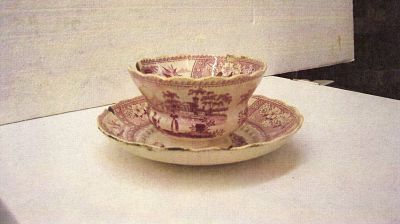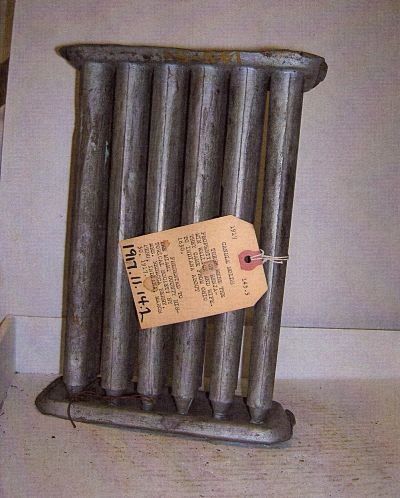 On March 22, 1889 John Wesley Wallick passed away at the young age of forty-five years old. He was survived by his wife Rebecca and his twelve-year-old son, Rutherford. Rebecca eventually remarried, thus explaining why most of the Wallick family possessions donated to the Miami County Historical Society were donated in the name of either Rebecca Wallick Berry or Rebecca Buskirk Berry.

John W. Wallick and his wife, Rebecca, are buried in Reyburn Cemetery, Peru, Indiana along with many other family members who were veterans of the Civil War.



John Wesley Wallick 1844-1889
Comrades-in-Arms


Father
Benjamin- 109th IN

Brothers
Charles F- 87th IN
William- 51st IN

Uncles
Christopher- 109th IN
Wesley- 109th, 138th IN

Cousins
Benjamin- 162nd OH
Jeremiah- 109th IN
William F 13th, 109th, 151st IN



Song: All Quiet Along the Potomac





Return to Top


Return to Wallick Family Webpage