William "Huette" Wallick- 38th Indiana, Co. D

Rank: Private

Place of enlistment: Evansville, Vanderburgh County, Indiana

Mustered into Federal service: November 11, 1864

Service Time: 8 Months, 4 days

Born: May 10, 1845 - Tuscarawas County, Ohio

Age at enlistment: 18

Height: 5'9" black hair, black eyes

Civilian occupation: Farmer

Family Lineage
William Huette, son of "Daviess County" Michael, son of "Bunker Hill" Michael, son of "Bedford County" Michael, son of Hans Michael and Esther Wallick

In the American Civil War it was possible for a man who was drafted to escape his military obligation by hiring a "substitute" in his place. A draftee at the beginning of the war could pay a three-hundred dollar commutation fee to the United States Government and be excused from service. However, as the war dragged on, the government grew weary of trying to find men to replace those who bought their service time and the draftee had to find his own replacement and negotiate a fee with the substitute. Commutation fees skyrocketed in price as more men were required for the war and fewer men volunteered. This fusion of military obligation to free market economics meant that by the war's end the "substitute soldier" could demand double, triple or even quadruple the original $300 dollar fee. The controversial policy gave rise to the slogan, "Rich man's war, poor man's fight."

William Huette Wallick was a substitute soldier and he is the only Wallick who served as such during the war. His family called him by his middle name, Huette, and that is how we will refer to him in this biographical sketch. There were actually four William Wallicks from the Hans Michael lineage who served during the war, three from Indiana and one from Ohio. The use of their middle names or initials is essential in this study to help distinguish one soldier from another.
William "Huette" Wallick c. 1904

Huette was the first born son of "Daviess County Michael" and would have been about sixteen years old when he saw his father march off to war. At this young age, Huette found himself the "man of the house" and was left to tend the family farm and help his mother, Jane, raise four siblings. One can imagine the anticipation and excitement every time the family opened a letter from their father. However, the realities of war were quickly realized when Papa Michael was wounded in the shoulder during his first engagement at Buckton Station, VA, and became a POW for four months. By the end of his service Michael had been wounded twice in battle and had learned the hardships of a soldier's life. What influences he brought to bear on Huette's decision to become a soldier we will never know. Michael certainly had no romanticized notion of soldiering, so it could have been Huette's strong sense of patriotism that motivated him to join the ranks. Or the enticement of good money for one year's military service may have helped Huette decide to become a soldier. It was probably a combination of both, as it is today, when young men and women join the military. Huette enlisted in the army just two months after his father's discharge from service. Michael and Huette are the only father and son duo from the Wallick clan to have served during the war (excluding the "One Week Warriors", who were only Federalized for seven day).




There was a mistake by the state of Indiana when it compiled the Report of the Adjutant General of the State of Indiana on soldiers who served in the Civil ar. Huette's name is recorded as William Huette Walker, instead of William Huette Wallick. It was an error that caused a little difficulty when researching this biography and must have created problems at the time for Huette, since the disability and widow's pension applications for Huette and his wife always include the alias name, Walker. In Huette's compiled service record they use his correct given and surnames.

William "Huette" Wallick with the 38th Indiana Volunteer Infantry


1864

NOV 11 Huette is mustered into Federal service in Evansville, Indiana. He enlists as a substitute for draftee Taylor A. Pensinger of Daviess County, Indiana. The amount of the commutation fee is unknown. Huette is obligated to serve one year for Mr. Pensinger.


Huette Wallick's enlistment paper as substitute for Taylor A. Pensinger

1865
JAN Huette is posted with the 38th Indiana in Savannah, GA. and prepares for General Sherman's advance into the Carolinas. Life in the army could have been difficult at first for Huette, for he joined an outfit that had been together since September of 1861 and the veterans had just reenlisted the previous fall. Replacements were not always welcomed by veteran soldiers.
FEB 5 The 38th Indiana marches out of Savannah, GA, to begin the "Campaign of the Carolinas" with General William Tecumseh Sherman. Earlier, "Uncle Billy," as his troops called him, declared that his campaign through Georgia would be so harsh that he would "make Georgia howl".
If he made Georgia "howl" then he must have made South Carolina "scream," for the destruction and ruin he brought upon that state exceeded the devastation of Georgia. General Sherman always considered South Carolina the cradle of the rebellion and as such, it should be punished. The 38th Regiment participates in one of the most remarkable troop movements in history. Military historians have marveled at the ability of that army to travel twelve miles a day in the swamps of South Carolina during the middle of winter. Many of the logistic and engineering lessons learned during Civil War campaigns were utilized in the building our transcontinental railroad.

Some ruins of Columbia, South Carolina.
February, 1865.


MAR 16 Battle of Averysboro, NC. The 38 is held in reserve and sees no action.

MAR 19-21 Battle of Bentonville Huette and the 38th Indiana make a probing attack at the beginning of the battle but are repulsed by a veteran Confederate brigade. Although the attack fails it causes the Rebels to make a tactical blunder. Confederate reinforcements are diverted from their original deployment and this weakens a Rebel counterattack. It is considered the biggest mistake the Rebels make during the battle. Distant cousin Charles F. Wallick of the 87th Indiana is also at Bentonville and is guarding wagon trains.


The 38th Indiana is deployed on this field, just in front of the trees at the opening of the Battle of Bentonville. Their corps attacks but is thoroughly routed and must retreat before the enemy in what becomes mockingly known as "The Battle of Acorn Run." It ridicules Huette's XIV Army Corps performance, for their corps insignia is, the acorn.

MAR 24 The Regiment occupies Goldsboro, NC.
APR 10-14 Huette and the 38th Indiana advance on Raleigh, NC.
APR 26 Surrender of General Johnston's Confederate Army at Bennett House.
Huette's regiment is nearby when the Confederate terms of surrender are discussed and signed here, at Bennett House, April 26, 1864. Over 89,000 Confederate troops are ordered to lay down their arms in what is the largest capitulation of a Rebel force during the war. It can be argued that it is here, and not at Appomattox Courthouse, that the War of the Rebellion finally came to an end.

Bennett House, near Durham, NC, is the site of General Johnston's surrender.





APR 29-May 20 March to Richmond, VA. and then on to Washington D.C.

MAY 24 Grand Review of General Sherman's Western Army. At the conclusion of the war both Huette and Charles F. Wallick march past this Presidential Reviewing Stand during the Grand Review of the Western Armies in Washington D.C. General Grant, President Johnson and his Cabinet, plus other important political and military dignitaries are present. There are 65,000 men in the parade and it takes six hours to pass by the grandstand.

The Presidential Reviewing Stand on Pennsylvania Ave. May 24, 1865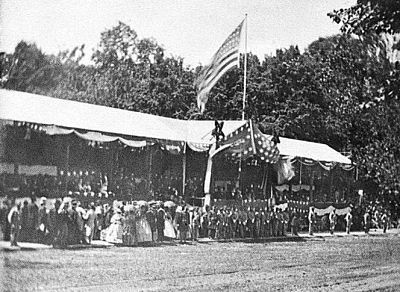 JUN The 38th Indiana travels to Louisville, KY.
Jul 15 Huette and the men of the 38th Indiana Infantry are mustered out of Federal service at Louisville. Huette is discharged after serving only eight months of his one year commitment.
Comrades-in-Arms

Father
Michael 27th IN


William Huette Wallick is buried in the Mount Olive
Church Cemetery, just east of Odon, Indiana.




Song- Marching Through Georgia

"Marching Through Georgia" is an appropriate song for new recruit Huette Wallick. In early January, 1865, he arrived at Savannah, Georgia to serve with distant cousin and veteran soldier Charles F. Wallick. Charles and General Sherman had just completed their trek through the heart of Georgia.


Return to Top

Return to
Wallick Family Website