Benjamin Franklin (Frank) Wallack: 17th Kansas, Co. D

Rank: Private

Place of enlistment: Atchison, Kansas

Mustered into Federal service: July 28, 1864

Service time: 100 Days

Born: September 10, 1844 - Tuscarawas County, Ohio

Age at enlistment: 20 years old

Height: 5'9", dark hair, blue eyes

Civilian occupation: Farmer

Family Lineage:
Benjamin Franklin, son of "Kansas" Benjamin, son of John Jr., son of John Sr., son of "Bedford County" Michael, son of Esther and Hans Michael Wallick.

During the American Civil War it was not uncommon for soldiers to have different spellings of their surnames written in their service records. The surname Wallick can be found on military documents with alternate endings of "a-c-k" and "e-c-k" (it is clear that most of the time the changes were due to clerical errors). Two of the three Wallick soldiers buried in our national cemeteries have alternate spellings of Wallick on their headstones. Both Isaiah Wallick, buried at Chattanooga, Tennessee and Elias Wallick, buried at Winchester, Virginia have their names spelled Wall-a-c-k. People were not as careful with spelling in the nineteenth century and many times if a spelling mistake was made, rather than correct it, people just let it go. Ulysses S. Grant is a prime example.

Hiram Ulysses Grant (his real name) was nominated to West Point by a congressman who, in a rush to secure the appointment, didn't just misspell Grant's name but completely changed it to Ulysses Simpson Grant (Simpson coming from his mother's maiden name). When the young cadet went to register at West Point, rather than argue with the adjutant's office about the mistake, he just let it go. He also was aware that the initials to his legal name spelled H.U.G, and that could make life a little more difficult for a plebe at West Point. The mistake, however, proved to be a boon for U.S. Grant both during the war and in civilian life. After his glorious victory early in the war at Ft. Donelson, he became a hero in the North, known in the newspapers as Unconditional Surrender Grant, thanks to his congressman's mental error.

There is one Wallick soldier who spelled his name Wall-a-c-k and it was not a clerk's error or careless penmanship but a deliberate change made by that soldier. All of Benjamin Franklin Wallack's service records are consistent in spelling his last name, Wall-a-c-k, from his signature on the enlistment papers through his compiled service record. Benjamin Franklin Wallack was called "Frank" by his family and friends, and so he will be called in this biography to avoid confusing Frank with his father, "Kansas" Benjamin, and all the other Benjamins from the Wallick clan.

Benjamin Franklin "Frank" Wallack, 1870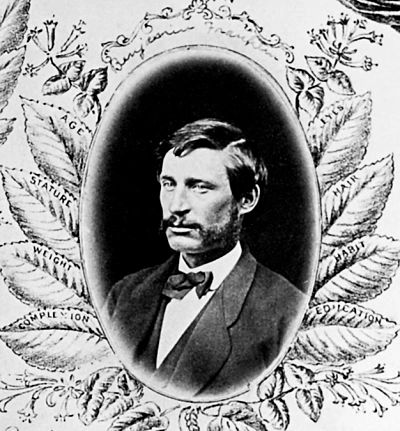 One family account states that Benjamin Franklin Wall-i-c-k deliberately changed his name to Wall-a-c-k early in his young adult life. The story is told that Frank's wife, Ellen Green, had pressed the matter of changing the spelling of his surname and that Frank finally agreed. This well-educated eastern woman felt that the spelling of Wallick had somehow become cor-rupted through the years. Her rationale was that back east, every Wallick she knew ended their name in A-C-K. Two brothers, John and Charles, had business ties with Frank and they also agreed to change their names. This irritated and ang-ered their father, Benjamin, who threatened to disinherit them all. In order for this story to be true, Frank and Ellen Green would have to have met and agreed to this name-change issue before he enlisted, because all of Frank's service records from the National Archives are all spelled Wall-a-c-k. However, the marriage did not actually take place until seven years after his enlistment, making the truthfulness of this story suspect. In any case the name change happened and there is a branch of the Hans Michael Walck/Wallick family that spells its name Wall-a-c-k and that can be traced back to Benjamin Franklin Wallack (1844-1887).

Frank Wallack's very early childhood days were spent in Tuscarawas County, Ohio. Then in 1850 his father, Benjamin, learned of the rich farmlands of DeKalb County, Indiana and decided to move his family there, settling in the little town of Butler. After ten years Benjamin, again, decided to move his family still farther west to the Kansas Territory, an exploding war zone since the mid-1850s.

The Kansas/Missouri border war was an ugly affair; a bloody insurrection that preceded our national civil war by nearly a decade. Small groups of anti-slavery partisans called Jayhawkers, and pro-slavery zealots called Bushwhackers, waged war against each other. These were roaming mobs of partisans rather than an organized militia. Stephen Douglas, the senator from Illinois, crafted the Kansas-Nebraska Act of 1854 that gave new territories the right of self-determination in choosing to become a slave or free state. Election fraud and voter intimidation was rampant along the Kansas-Missouri border and citizens resorted to force-of-arms to settle their political disputes. For a time Kansas would have two state governments with two different constitutions: one that included slavery and one that did not. For many years guerrilla warfare reigned in the region. Benjamin knew he was moving into a viper's den when he decided to relocate his family to Atchison County, Kansas in March of 1860.


"Kansas" Benjamin Wallack, 1870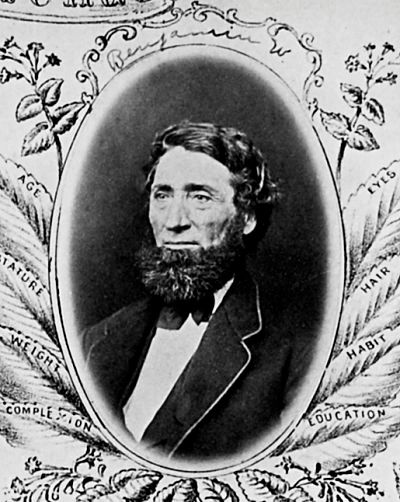 Why would Frank's father, Benjamin, willingly move his family into a region where violent civil insurrection was taking place? He had no encouragement from his wife, Mary. When she first saw the miles upon miles of bleak, treeless prairie land she became desperate to return to her home back in Indiana. Benjamin on the other hand saw the treeless landscape as a positive. Kansas had very fertile grasslands and the lack of trees meant that a farmer didn't have to spend years clearing the land and removing old stumps from his fields. This new land also opened up more opportunities for his sons and it appears that first-born Frank took advantage of them. Benjamin also had a pioneer's spirit, just like his forefathers, and held some very strong personal beliefs. He was an ardent Unionist and Republican (though not an abolitionist), puritanical in his religious beliefs and a strong disciplinarian. Benjamin was not one to let a little adversity, such as unrestrained guerrilla warfare, interfere with the pursuit of his goals. He couldn't serve in uniform himself due to a hernia, but did actively support the Union's cause by becoming an enlistment officer and sheriff of Atchison County. As sheriff he saw to the needs of Unionist families while their husbands and fathers were off fighting the war.

Mid-1800s photo of a homestead in Atchison County, Kansas.























This is how Atchison, Kansas looked in 1860 when Benjamin Wallick arrived in town.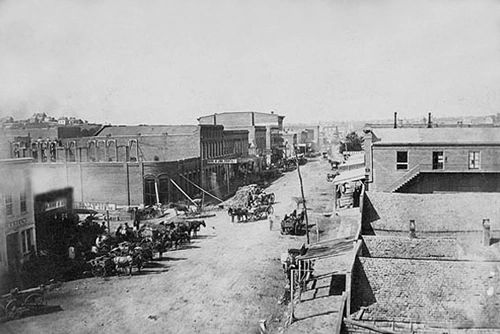 Frank Wallack's descendants have told the story that he was a substitute soldier for his father, but apparently that is not so. There is nothing in Frank's compiled service record from the to support such a claim. Frank has regular enlistment papers for the 17th Kansas Volunteer Infantry and he was mustered into Federal service for 100 days in the summer of 1864.

Frank Wallack's enlistment paper dated July 18, 1864. If he had been a substitute soldier, a different document would have been used. (See Huette Wallick, substitute soldier document)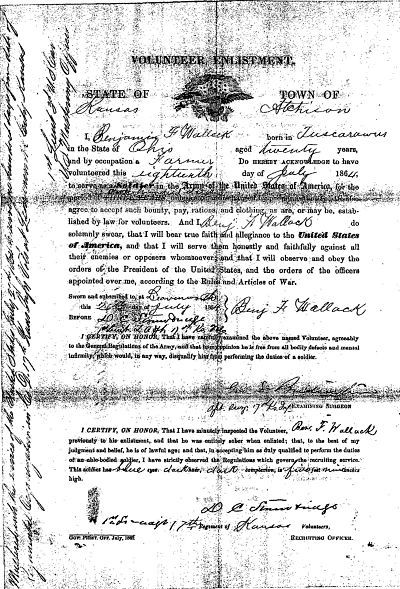 1864


JUL 28 Frank Wallack is mustered into Federal service with the 17th Kansas Infantry Regiment at Ft. Leavenworth KS for 100 days. He is twenty years old.

AUG-SEP Frank Wallack and his company are sent to Lawrence, KS, site of the famous 1863 massacre by Confederate partisan and Dover, OH native, William Clarke Quantrill.


William Clarke Quantrill- Dover, Ohio

Historical Note- If Frank Wallack did go to Lawrence, Kansas in the summer of 1864, he undoubtedly saw some of the lingering devastation created the year before by William Clarke Quantrill and his Confederate raiders. This infamous outlaw was born and raised in Dover, Ohio, at approximately the same time as Frank, although Quantrill was six years his senior. Quantrill had a gifted intellect and became a school teacher in Dover immediately after his graduation from Dover High School. A few years later he went west to seek his fortune. He was a Unionist when he left his hometown but turned pro-southern in his sympathies after experiencing some personal challenges and failures in Colorado and Kansas. He never joined a regular Con-federate militia group but was recog-nized as the leader of an independent band of guerrillas by the Confederate Government under the Partisan Ranger Act . He was one of the most notorious outlaws of the entire Civil War. On August 21, 1863, Quantrill and his gang of 450 men attacked, sacked and burned to the ground the town of Lawrence, KS, killing all 180 men and boys in the town, many of them execution style. Jesse James and his brother Frank began their careers as outlaws riding with William Clarke Quantrill and his Confederate bushwhackers.

The raid on Lawrence, Kansas in the summer of 1863 was perhaps the most savage attack perpetrated on a civilian population during the entire Civil War. Company D of the 17th Kansas Infantry was posted in Lawrence a year after the massacre. Frank Wallack would have seen first-hand the devastation leveled on that community.



OCT-NOV The regiment helps repel General Price's invasion into Kansas. They march to the relief of Mound City in Linn County, near the site of the Mine Creek Battlefield. On October 25, 1864, Confederate cavalry under General Sterling Price engages a vastly outnumbered Union force near Mine Creek. The Confederates are soundly defeated. Much of the credit for the lop-sided victory is due to the Union's superior weaponry (estimated Union casualties were 100 and the Confederate 1,200). The Union Soldiers had revolvers and breechloading carbines while the Confederate force only used muzzle-loading muskets. It is one of the largest cavalry engagements of the Civil War and the largest battle in Kansas.


NOV 16 The 17th Kansas Infantry is mustered-out of Federal service at Ft. Leavenworth and Frank returns to Atchison County.

Frank Wallack returned to Effingham, Kansas after his 100 days of service. He continued to farm and eventually opened a hardware business. He was a strong supporter of public education and worked hard to get the high school for Atchison County located in Effingham. He finally succeeded in his mission and because of his hard work, he became known as the "Father of Atchison County High School". Frank was active in local politics and in 1896 he was elected to the Kansas State Senate. Unfortunately, his term was cut very short. Six months after his election he had an accident where he was thrown from his surrey and severely injured. He died of a heart attack on May 11, 1897 and it is believed that the accident was a contributing factor to his heart failure. Frank Wallack is buried in the Effingham Kansas Cemetery.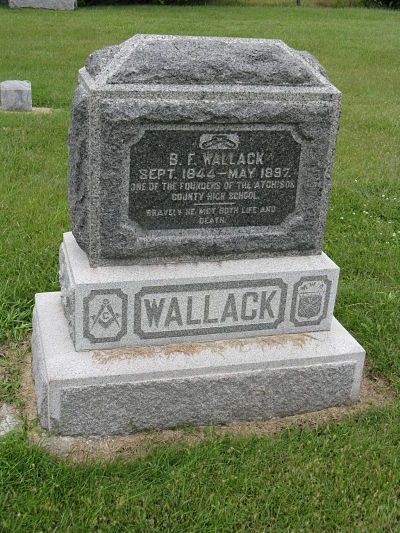 Inscription:

B.F. Wallack
Sept. 1844-May 1897
One of the Founders of the Atchison
County High School
Bravely He Met Both Life And Death


Tributes to Senator Benjamin Franklin Wallack were read into the official record of the Kansas State Senate on December 23, 1898. To read a full transcript of the proceedings, click on the link below and begin reading on page 98.

http://books.google.com/books?id=g7ZKAAAAMAAJ&pg=PA103&lpg=PA103&dq=wallack+atchison+county+high+school&source=bl&ots=RB7ruH07lK&sig=iD4Py8ArpcgIAnolTh-r0b4HtIU&hl=en&ei=q1Y6TcHmJIudgQew2-jECA&sa=X&oi=book_result&ct=result&resnum=3&sqi=2&ved=0CCUQ6AEwAg#v=onepage&q=wallack%20atchison%20county%20high%20school&f=false


Much of "Kansas" Benjamin's family history was taken from the transcript, "My Wallick Family" by Vesta Beatrice (Wallick) Kaufman and Adalaide (Covell) Wallick. The original transcript resides in the Latter Day Saints Library in Salt Lake City, Utah.


Comrades-in-Arms

No brothers or first cousins


Song: Johnny's Gone for a Soldier





Return to top


Return to Wallick Family Website