David H. Wallick: 102nd Ohio Infantry, Co. G

Rank: Private

Place of enlistment: Holmes County, Ohio - August 9, 1862

Mustered into Federal service: September 6, 1862

Service time: 2 years 10 months

Born: August 7, 1832 - Holmes County, Ohio

Age at enlistment: 31 

Height: 5'10"  dark hair, dark eyes

Civilian occupation: Farmer

Family Lineage
David H., Son of Henry George, Son of "Bedford County" Michael, Son of Esther and Hans Michael Wallick


David H. Wallick had only been married four months when he rode into Millersburg, Ohio on August 9, 1862 and enlisted in the Union army.  He was a thirty-year-old farmer and it would be interesting to know why he left hearth and home so quickly after marrying his seventeen-year-old bride, Sarah Moore.  Although he may not have known it at the time of his enlistment, David was a father-to-be.  A daughter, Margaret, was born to the couple sometime in 1863 while David was deployed south, fighting the Rebels.  The eighteen-month war had already intruded into David's family.  His younger brother, Henry M. Wallick, had been swept away by war fever after the Confederates attacked Ft. Sumter in the spring of 1861.  President Lincoln called for 75,000 volunteers to serve ninety days to help crush the southern rebellion and more than enough men volunteered, Henry being one of them.   After Henry fulfilled his three-month obligation he returned home to reenlist for three years with the 67th Ohio Volunteer Infantry.   Perhaps by the summer of 1862 David believed it time for him to make a contribution to the Union's war effort. 

We know that Elijah Wallick, David's cousin, enlisted on the same day, and that the two served in the same regiment and company. The first two years of their service appears to be somewhat uneventful.  Then, on September 24, 1864, Elijah was chosen  to be part of a relief expedition to embattled Fort Henderson at Athens, Alabama.  About two hundred men from the regiment were dispatched to Athens and twenty of them, including Elijah, were from company G.  All the men who were dispatched to Ft. Henderson were captured, then incarcerated at Cahaba Prison in southern Alabama.  Fate was more kind to David as he was ordered to stay in camp with the remainder of his company. 

Most of the duties of the 102nd were rear echelon assignments such as guarding trains, repairing bridges and providing post security.  Although these duties appear to be mundane and less than exciting, there was always the danger of attacks from Confederate cavalry and guerrillas.  General Nathan Bedford Forrest became a legend in the war by attacking Union supply stores and creating havoc in the rear areas of the Federal lines.  He is also the Confederate general who captured both Elijah and William Wallick.


The Civil War was hard on the Wallick families from Holmes County.  Four of their sons were wounded, captured, killed or physically broken during the war.  David's brother, Henry, was killed in action at the battle of Chester Station, Virginia in the spring of 1864.  His cousin, William D. Wallick, died of disease early in the war after being in the service only two months.   Elijah was spared a horrific death in the icy waters of the Mississippi River only because he was separated from his comrades when released from Cahaba Prison.  He was so severely ill when paroled that he required a long hospitalization.  Eighty-one soldiers from Elijah's regiment perished April 27, 1865 on their way home from the war in the steamboat Sultana explosion.   It appears that Elijah's broken health very well may have saved his life.  Cousin Charley Wallick is said to have been wounded at the battle of Thompson's Hill (Port Gibson) during the Vicksburg campaign.  David is the only soldier from Holmes County where there is no mention of his coming to any physical harm or illness during the war.  That is not to say that he was never sick or injured, only that no incident was bad enough to be recorded in his company records. 

After the war David and his cousins returned to Holmes County, but not for long.  By 1869 all three of the surviving Holmes County veterans, Charley, Elijah and David,  had moved out of Ohio and into the new western lands.  Charley and Elijah relocated to Iowa and David moved to a farm near Olathe City, Kansas.  All three became prosperous ranchers and farmers with David's homestead being called "splendidly improved."  He farmed and raised livestock until his death in 1909.   


        David H. Wallick with the 102nd Ohio Volunteer Infantry 

                                                      1862


AUG 9   David and cousin Elijah enlist in the Union Army for three years at Millersburg, OH.  Whether David knows it or not his wife, Sarah, is pregnant with their first child.  The 102nd is organized at Camp Mansfield and, according to their regimental history, they are known for their "gentlemanly qualities" while in camp.

SEP 6-22   David is mustered into Federal service on September 6th in Covington, KY.  He will be posted in and around the defenses of Cincinnati through September 22 as a result of the Confederate invasion of southern Kentucky.  He receives a partial bounty payment of $25 after his mustering-in.

SEP 22- Oct 6   The 102nd  OH is moved to Louisville, KY to bolster the defenses of that city in response to Confederate General Braxton Bragg's move towards the Ohio River.

OCT 5-6   The regiment is assigned to guard the brigade wagon trains while pursuing General Bragg.

OCT 9    Battle of Perryville   The 102nd is held in reserve and sees no action but is close enough to hear the sounds of battle.

OCT 10 – DEC 30   After the Battle of Perryville David and his regiment move to Bowling Green, KY where they are given the responsibility of securing the railroad line from Bowling Green to Nashville, TN.  On December 19th they are moved to Russellville and then to Clarksville.


                                                      1863



JAN – SEP  David spends almost ten months in the vicinity of Clarksville, TN building bridges, forwarding supplies and providing a secure base of operations for the Union Army.

SEP 26 – 30   The 102nd is called on to help repel a Confederate cavalry raid by General Wheeler.

OCT – DEC  The regiment is moved to Nashville to guard the railroads and supply stores.


               Nashville railroad yard with the state capitol building in the background.


                                                     
                                                     1864

JAN – APR  The 102nd remains in Nashville where they protect one of the Union's most vital supply bases in the entire South.

APR 26 – JUN 6   David's primary responsibility is to help guard the Nashville and Chattanooga Railroad from Normandy to Decherd TN.  Thousands of men were needed throughout the war to protect the railroads from attacks by Confederate cavalry and guerillas. Sometime in May David will be notified that his brother, Henry, has been killed in action at the Battle of Chester Station (May 10, 1864).  On June 6th the regiment crosses over the Cumberland Mountains.

JUN – AUG   The 102nd is part of a defensive line along the Tennessee River from Stevenson AL to Seven Mile Island.

SEP 1-15   The regiment has duty protecting the Tennessee Railroad from Decatur, AL to Columbia, TN.

SEP 23-24   Union troops at Fort Henderson in Athens, AL become engaged in battle with Confederate cavalry under the command of General Nathan Bedford Forrest and they are at the brink of surrender.  The commanding officer at the fort, Colonel Campbell, requests that a relief expedition be sent immediately.  This force includes some men of the 102nd Ohio Infantry.  David's cousin, Elijah Wallick, is one of twenty men from his company who are sent to Ft. Henderson.  For whatever reason, David is not chosen to be part of this expedition.  It is indeed fortunate for him.  All of the relief force is eventually captured by the "Wizard of the Saddle," General Forrest, and the Federal captives are taken to Cahaba Prison in southern Alabama. Elijah Wallick and those with him will endure great hardships while incarcerated.  After their parole, eighty-one of David and Elijah's comrades will lose their lives when the steamboat Sultana explodes on the Mississippi River in the early morning hours of April 27, 1865 (for more information see Elijah Escapes the Sultana Disaster). 

OCT – DEC   Operations and skirmishes take place on the Tennessee River against General Hood's Confederate Army.  Hood has moved into Tennessee and will make a desperate attack at Franklin and Nashville.  At these two engagements the Federal forces will totally rout and destroy General Hood's army.  It is one of the worst defeats of the entire war for the Confederates.

OCT 26-29   The 102nd is involved in a siege of Decatur, AL.  The city is evacuated on November 25.

NOV 25 – DEC 2   David and his regiment march to Stevenson, AL and remain posted there until May, 1865.  One of David's responsibilities is guarding the ordnance stores of the regiment.

                                              Fort Harker,  Stevenson, Alabama. 
                                             David was posted here for six months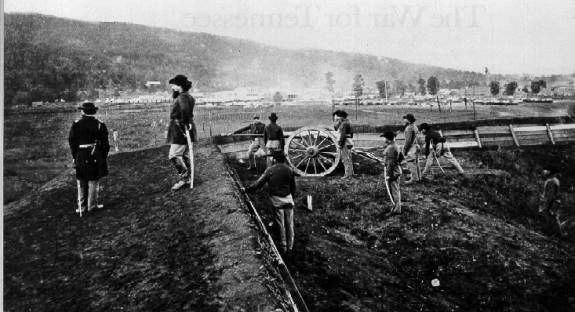 1865

JAN – MAR 26   David goes on furlough.  When he returns to Ft. Harker he continues to guard the ordnance stores. 

APR-MAY   The 102nd remains posted in Stevenson, AL.

MAY 23   The regiment is moved to Decatur, AL where they conclude their service in the Union Army.

                              The Silver Cornet Band of the 102nd OVI Regiment


                     David and Elijah must have spent many a night entertained by 
                        these men after a long and mostly monotonous day in camp.

JUN 30   David H. Wallick is mustered out of Federal service in Nashville, TN.  He is paid $25.00 of his bounty and is owed $75.00 more. However, he owes the government $33.63 from his clothing account.

JUL 8   When the 102nd Regiment left Camp Mansfield in the summer of 1862 it had over one thousand men in its ranks.  Just under three years later the regiment returns to Ohio and musters-out with only 466 men.  Over half of David's regiment were captured, killed, died of disease, or replaced for other reasons.

                            
David returns home from the war to his very young family.  At Christmastide, 1866, both his father and mother die within five days of each other.  With their passing David soon   moves to seek out new lands in the west.  Real estate is very cheap in Kansas and David settles in the little town of Olathe in 1869.   Success follows him to the prairie where he earns quite a reputation as a rancher and farmer.  He dies December 1, 1909 and is buried in the Olathe Memorial Cemetery.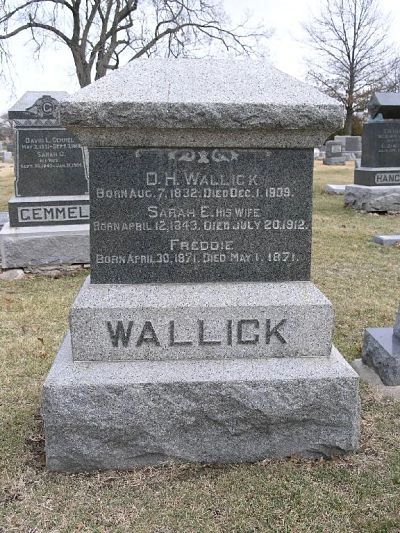 Comrades-in-Arms         

Brother
Henry M- 67th OH

Cousins
Elijah- 102nd OH
Daniel- 20th OH
David- 139th OH
Michael- 27th IN

                                                














Song: Marching Through Georgia



                                                 

                                                              Return to Top

                                                        Wallick Family Website