William D. Wallick- 67th Ohio Infantry, Co. C

Rank: Private

Place of enlistment: Holmes County, Ohio - December 26, 1861


Mustered into Federal service: January 2, 1862

Service Time: 2 months


Born: 1845/46? Holmes County, Ohio


Age at enlistment: 18, possibly younger 

Height: 5'5"  light hair, gray eyes

Civilian occupation: Farmer

Family Lineage
William, son of Michael, son of John Sr., son of "Bedford County" Michael, son of Hans Michael and Esther Wallick
It is truly unfortunate that William D. Wallick will have the shortest biography of all the Wallick soldiers.  He only served two months before passing away February 26, 1862 in an army hospital at Cumberland, Maryland.  It also appears that he was the youngest Wallick to have ever served in the Union Army.  Conflicting records indicate that he could have been as young as sixteen but certainly no more than seventeen years old when he signed his enlistment papers.  The National Archives state his age as eighteen years old but considering all the other genealogical evidence, that seems unlikely.  William joined the army the day after Christmas, 1861, following cousin Henry M. Wallick into the 67th Ohio Infantry (he was actually a first cousin, once removed).  Henry was five or six years older than his young cousin and a 2nd Lieutenant in the new company of soldiers from Holmes County.  Perhaps this influenced the family's decision to let William enlist.  The two families could draw comfort from the fact that their sons would be serving together in the same company and could look after each other.  The irony is that neither William nor Henry would survive the war.

Charles Wallick, William's older brother by three years, had enlisted in the 16th Ohio Infantry in September, 1861. It must have pained young William very much to watch his older brother shoulder arms and parade off into military glory while he had to stay home and clean out the barn.  Though underage, he was determined to not miss this opportunity of a lifetime.  Stretching one's age was done quite often by new recruits and it appears this is exactly what William did. 

Many new recruits, such as William, came from isolated rural farming communities and they had little exposure to what we now consider "childhood diseases" like measles, mumps, chicken pox, etc. This made them very susceptible to sickness in general.  The miracle drug aspirin was years away from development so the simplest fever was a serious threat. The real life-threatening danger to a Civil War soldier (by a margin of two-to-one) was camp life, not the battlefield .  Whereas approximately 200,000 men died in combat during the war, 400,000 were laid waste by disease.  Unfortunately, William was one of them. 

The Official Roster of Soldiers from the State of Ohio in The War of the Rebellion, 1861-1865, Roll of Honor, lists William D. Wallick as buried in Antietam National Cemetery, Sharpsburg, Maryland.  Obviously, he did not fight in the September, 1862 Battle of Antietam, for he died nine months before that engagement ever began.  But the soldiers who were killed at that battle are not the only ones buried in the national cemetery.  Many other soldiers who died and were buried in the surrounding countryside were moved to Antietam after the war. 

Identification was a real problem during the American Civil War and Antietam has numerous soldiers buried as "Unknown".  A total of 4,776 soldiers are interred at Antietam National Cemetery; one-third of them are unidentified.  Dog tags were not used by either side during the war.  When fierce battles were anticipated, soldiers often wrote their names on pieces of paper and pinned them to their clothing so they could be identified if they were killed.  

When there was a major battle with many casualties, the army didn't have time to collect all the dead and transport them to national cemeteries. The fallen were often buried on the battlefield to be re-interred later in the national cemeteries.  The same was true with those who died in hospitals when relatives were unable to claim the bodies.  William D. Wallick appears to be just such a case in point.  
                             
Some soldiers who died at Cumberland hospital were later moved to Antietam National Cemetery.   All indications are that William was one of those moved.  But if William was buried at Antietam National Cemetery, why is he not identified in the interment records?  The obvious answer is that his identification must have been lost when he was first buried or when his body was later moved.   Grave markers at hospital cemeteries were not intended to be permanent and one can imagine the problems of transporting  hundreds of bodies across many miles to be re-interred.  Burial details in Civil War armies were known to be careless and haphazard in their duty, especially after a battle when quick internment was a priority.  The labor provided for this gruesome work was not always done by military personnel, but also by hired civilians or ex-slaves.  The opportunity for losing a soldier's identity was great.  Although the mammoth twelve-volume Official Roster of Soldiers from the State of Ohio  is far from perfect in all its documentation, for lack of any other evidence this author accepts, as fact, that William D. Wallick is buried in Antietam National Cemetery at Sharpsburg, Maryland, as an unknown.


           William D. Wallick with the 67th Ohio Volunteer Infantry
                                                        
                                                      1861

DEC 26   William enlists as a very young private, the day after Christmas, 1861.  He joins 2nd Lieutenant Henry M. Wallick (who enlisted November, 19th) in Company C of the 67th Ohio Infantry.
                                                                    1862


JAN 2   The 67th Ohio Infantry is mustered into Federal service at Camp Chase, Columbus, OH.

JAN 19   The 67th Ohio leaves for West Virginia.


FEB   William becomes ill with measles and is taken to a hospital at Cumberland, MD.


FEB 26   William D. Wallick dies of measles in a Cumberland hospital and is interred in the hospital cemetery.  He is eventually re-interred as an unknown at Antietam National Cemetery, Sharpsburg MD .


                    Antietam National Cemetery, Sharpsburg, Maryland.


                        
Antietam is like many other Civil War cemeteries where unknown soldiers are scattered among those who have known identities.  The picture below illustrates the difference between the two types of memorials.  One can immediately identify  original Civil War unknown markers for they are only small squares with the soldier's number on top.  The word, Unknown, does not appear anywhere on the stone.
               




                     Soldier number 1474 may not be William D. Wallick but his 
                       marker at Antietam National Cemetery would be similar.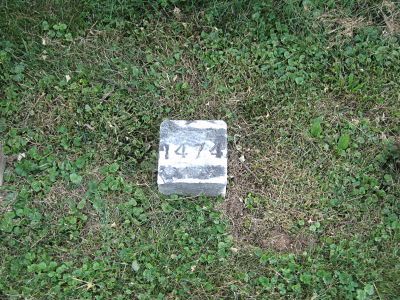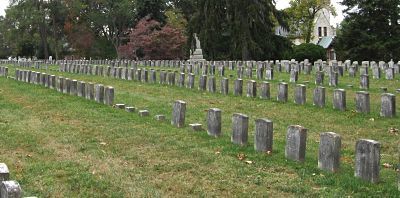 William D. Wallick is buried with 4,775 other soldiers in Antietam National Cemetery.

Comrades-in-Arms

Brother
Charles        16th OH

Cousin
Henry M.     67th OH- Killed in action at the Battle of Chester Station

Song- Johnny Has Gone For A Soldier


                                                             Return to Top

                                                               Return to 
                                                    Wallick Family Website