David Wallick - 139th Ohio National Guard, Co. H
Rank: Private 

Member of Van Wert County Battalion,  Ohio National Guard

Mustered into Federal service: May 15, 1864

Service Time: 100 days


Born: November 21, 1827 - Tuscarawas County, Ohio

Age when mustered into service: 37

Civilian occupation: Farmer

Family Lineage
David, son of Jacob, son of "Bedford County" Michael, son of Hans Michael and Ester Wallick

In 1813 David Wallick's father, Jacob, moved from the hill country of Bedford County, Pennsylvania, to the beautiful Tuscarawas Valley in eastern Ohio.  This valley in Ohio was the conduit through which most of the descendants of Hans Michael Wallick/Walck moved in their migration to western lands.  By 1853 Jacob was sixty-eight years old and had raised all seven of his children.  Both he and his wife, Elizabeth, then decided to accept the late-in-life challenge of leaving Tuscarawas County with his four youngest sons and moving across the state to the rich farmlands of Van Wert County, Ohio.  Jacob and his sons, John, Daniel, David and Emanuel were all farmers and well trained in agriculture.  All of Jacob's sons were married but none had any children except David, who had an infant son.  He and Mary Ann Smith married in March of 1851 and by June of 1852 they had their first child, John Wesley.  The Wallicks had become well established in their community when our country  was  torn  apart by civil war.  Two of the four brothers, Daniel and David, were called upon to serve in the Union Army during the conflict.  
  
By the spring of 1864 David Wallick had become a member of the Ohio National Guard and his company was called into active duty.  President Lincoln had asked the northern state governors for thousands of state militiamen to be mustered into federal service and sent to less dangerous rear areas for duties such as guarding railroads, supply depots and enemy prisoners.  Ohio alone supplied over 35,000 troops who were organized into regiments, federalized and transported to the eastern theater of the war.  This call-up of the state militias allowed more experienced volunteer regiments to be free for combat duty.  The massive build up of soldiers was needed in Virginia for the Union Army's spring offensive of 1864, which is commonly referred to as General Grant's "Overland Campaign".  Some state militia units did see combat during this bloody thrust into the Confederacy, but David's regiment was not one of them.  David and the 139th Ohio National Guard were first deployed in Washington D.C. for garrison duty, then moved to a little peninsula that jutted into Chesapeake Bay called Point Lookout, Maryland, (today, a state park) to guard Confederate prisoners.



Point Lookout State Park is located at the mouth of the Potomac River on Chesapeake Bay.  Today, the 1,042 acre facility offers numerous vacation activities plus a Civil War  museum.  The peninsula had always been a destination for tourists, even before the war, but it was used for strictly military purposes beginning in 1862.   Many rebel soldiers suffered at Point Lookout, which  was one of the worst of the northern prison camps.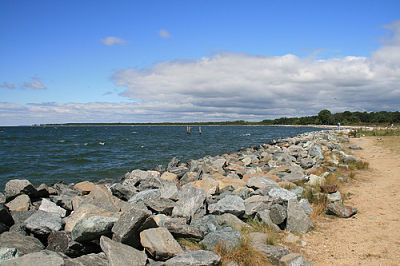 The Ohio National Guard can directly trace its origins to the American Civil War.  From colonial days there had always been a local militia system in our country, but it was during the Civil War that the term "National Guard" was adopted for state militia organizations.  At the beginning of the war, in 1861, most of the existing state militias were incorporated into Federalized volunteer regiments, so the mission of local defense and order fell to new units of those men who were exempted from Federal service- youths, middle-aged men and a  few veterans who had completed their active duty. 

With a wife and five children, David may have thought it better to join one of the home guard units than take a chance on being conscripted into Federal service.  David's brother, Daniel Wallick, was drafted into the army in the fall of 1862.  David's age and familial status would not have made him exempt from the draft.  Exactly when he became a guardsman is unknown.  He could have been a militiaman well before the war do to his sense of patriotism. Or he could have joined the national guard shortly after seeing his older brother, Daniel, conscripted into service.   Whatever the truth may be, we find David in the spring of 1864 a farmer, with a large young family, living in Van Wert County, Ohio, and receiving news that his National Guard company has just been called into Federal service for the next 100 days by President Lincoln . 


                       David Wallick with the 139th OVI-National Guard
      
                                                                  1864


MAY 11-20  The 139th Ohio National Guard Regiment is organized from nine companies of the 9th Regiment, Ohio National Guard from Cincinnati, one company from the 82nd Battalion, Ohio National Guard, Van Wert, County (David's Company), and one company from the 73rd Battalion, Ohio National Guard, Ottawa County.
  
MAY 21   The 139th travels to Washington D.C. via the Central Ohio and Baltimore & Ohio Railroads, where the regiment performs garrison duty.

JUN 1   David and his regiment are moved to Point Lookout, MD, at the mouth of the Potomac River, to guard Confederate prisoners-of-war.  Point Lookout Confederate Prison Camp (officially called Camp Hoffman, but rarely referred to by that name) is one of the worst of the northern prison camps.  At the beginning of the war the Union Army established a hospital at Point Lookout, with twenty buildings configured as if spokes in a wheel.  However, because there were a large number of prisoners taken at the battle of Gettysburg, it was soon transformed into a Confederate prison.  In the summer of 1863 the camp was constructed to house 10,000 prisoners, but within a year it was home to as many as 20,000.  The prison camp was operational for almost two years and over 50,000 Confederate soldiers were incarcerated during that time.  According to historical records (and contrary to what the picture below may mistakenly convey) there were no permanent barracks erected for the prisoners.  The rebels were confined to 40 acres of sandy beach within a fifteen-foot stockade fence that surrounded the camp.  It was located 1/2 mile northeast of the Union Army hospital.  The climate was brutal, especially in mid-winter and summer, and the prisoners had only tents for shelter throughout the year.  The northern prison guards were harsh (we can assume the men of the 139th were no different) and there was little food, fresh water or firewood for comfort or cooking.  Officially, 3,584 prisoner died at Point Lookout over 22 months.   However, depending upon whose narratives one reads, some death tolls tabulations climb as high as 14,000.  Accounts vary widely between northern and southern writers with both sides providing unreliable information.  What is not in dispute is that this prison had horrible living conditions with inadequate shelter, little food (and most of that being bad) and was garrisoned by very tough prison guards.

David Wallick and the 139th Ohio National Guard spent the summer of 1864 here, at Point Lookout, Maryland, guarding Confederate prisoners.  Conditions were harsh and extremely brutal for the rebels.  This picture is deceivingly pleasant.  At the tip of the peninsula is the army hospital and the prison camp is in the upper right-hand corner .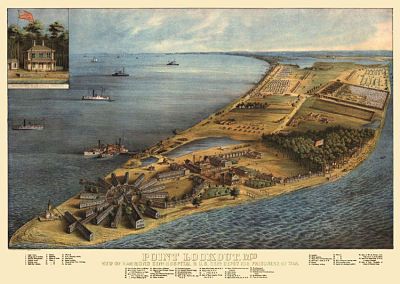 JUL 10   The Confederates plan a cavalry raid that will liberate all 17,000 prisoners at Point Lookout.  It is hoped that a quick cavalry strike, timed with a heavy bombardment by off-shore gunboats, can create enough confusion in camp to enable a mass escape of the prisoners.  It is a fanciful idea, devised because of  the serious manpower shortage in the Confederate Army due to General Grant's  stoppage of the parole and exchange system.  After the July 9th Union defeat at Monocacy Junction, the Rebel high command sends General Bradley Johnson and his men on a ride that is to cover 300 miles in four days.  As General Early advances his own army on Washington, General Johnson's cavalry is to wreck railroads and telegraph communications as they go down the Maryland peninsula toward Point Lookout.  The scheme begins to unravel when a captured Confederate deserter betrays the plan.  The Federals double their own off-shore gunboat patrols and the prison guards are put on high alert.  When General Early's attack on Washington stalls before the ring of forts that surround the capital, he commands General Johnson and his cavalry to rejoin his retreating army.  With the alarm passed, the men of the 139th continue their mission and monotonous life as prison guards.

AUG 22   The 139th Ohio begins their return to Camp Chase, in Columbus, OH.

AUG 26   David is mustered out of Federal service on expiration of term.  President Lincoln was limited by law as to how long he could use the national guard for Federal purposes.

David returns home to Van Wert County just in time for the fall harvest of 1864.  His wife, Mary Ann, had to rely on help from family and friends throughout the summer to keep the Wallick farm and household together.  When David marched off to war in the spring of 1864, he left behind five children ages twelve, ten, eight, three and an infant.  The only other Wallick to have left behind so large a brood while serving his country during the Civil War was "Daviess County" Michael from Indiana, who also left behind a wife and five children.  Michael , however, left his large family for three years, not just three months.  David continued to farm in Van Wert County for the rest of his life and died May 24, 1911, at age 83.


 David and Mary Ann Wallick are buried in Tomlinson Cemetery, Van Wert, Ohio. 




    David Wallick- Ohio National Guard, Co. H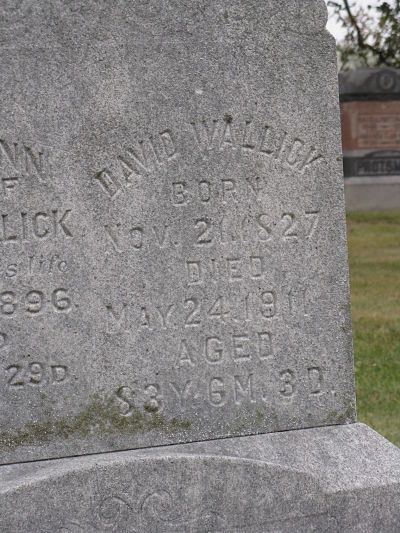 Comrades-in-Arms

           Brother
           Daniel        20th OH

           Cousins
           David H    102 OH
           Henry M    67th OH
           Elijah         102 OH
           Michael    27th IN






                                                            



Song- All Quiet Along the Potomac Tonight



                                                             Return to Top  
                                                                 

                                                                 Return to 
                                                      Wallick Family Website