Henry M. Wallick - 16th Ohio Infantry Co. G 
                                 67th Ohio Infantry Co. C

Rank: 16th Ohio, Private
            67th Ohio, 2nd Lieutenant

Place of enlistments: Holmes County, Millersburg, Ohio

Mustered into Federal service: 16th Ohio- April 22, 1861
                                                     67th Ohio- November 19, 1861

Service Time- 16th Ohio Infantry - 3 months, 1861
                         67th Ohio Infantry - 2 ½ years, 1861-64

Born 1838/39 - Holmes County, Ohio

Age at enlistment: 23  

Height: 5'10"   brown hair , hazel eyes  

Civilian occupation: Farmer


Family Lineage
Henry, son of Henry George, son of "Bedford County" Michael, son of Hans Michael and Esther Wallick

There is perhaps no Wallick soldier whose Civil War story is more tragic than that of Henry M. Wallick from the little village of Killbuck, Ohio.  Henry was a young man whose sense of duty and patriotism was so strong that he enlisted twice in the Union Army.  His first enlistment was at the beginning of the war on April 22, 1861, for three months, with the 16th Ohio Militia.  He saw some minor action with this unit in the mountains of West Virginia and after fulfilling his term, he took a two month respite from service.  Henry was a farmer, and after going home and harvesting his crops he re-enlisted for three-years in a new company that was being created from Holmes County.  His cousin, William D. Wallick, also joined this new unit.  Henry and William became part of the 67th Ohio Volunteer Infantry which was organized in Columbus, Ohio, and then sent east to Virginia.  Henry soon learned that the battlefield was not the only place where a soldier could he attacked.  Disease struck and killed cousin William on February 26, 1862, just two months after he enlisted.  It was a precursor to what Henry would face in the next few years, for Henry would fight a war against diseases as well as Confederates. 

It is no surprise that Henry was quick to enlist just days after the Confederate attack on Fort Sumter.  Military service was part of his heritage.  His grandfather, "Bedford County"  Michael, was a well known Pennsylvania militiaman during the American Revolution and his father, Henry George Wallick, served in the War of 1812.  In the mid-1820s, just after marrying his wife, Sarah, and overseeing the settlement of his deceased father's estate, Henry George sojourned west with others from the Wallick clan to Tuscarawas County, Ohio.  He had a brief stay there but soon relocated to neighboring Holmes County. Henry George (in the Wallick vernacular "Holmes County" Henry) first settled in Millersburg and then purchased a farm ten miles south of Millersburg near the hamlet of Killbuck, Ohio.  There he and his wife raised eight children- five girls and three boys.  Two of the three boys, Henry and David H. Wallick, served in the Union Army.  A total of five Wallick sons from Holmes County served during the war, the two aforementioned plus Charles P, his brother William D. and Elijah.

        Five Wallick soldiers from Holmes County, Ohio, served during the Civil War:
        brothers Henry M. and David H, plus cousins Charles P. William D. and Elijah.



Henry and the 67th Ohio Infantry were active in the eastern theater of the war.  They fought and beat General Stonewall Jackson in the first battle of his infamous Shenandoah Valley Campaign.  In this engagement, the Battle of 1st Kernstown, the 67th Ohio was active from the opening guns to the Confederate retreat.  This engagement was General Jackson's only defeat of his entire Valley campaign.  Henry then spent most of 1863 on islands off the South Carolina coast near the city of Charleston.  It was there, on Morris Island, that his regiment took part in the futile assault on Fort Wagner, a heavily defended Confederate fortress at the mouth of Charleston Harbor. Some members of the 67th Ohio did breech the walls during the famous night attack, but eventually they had to fall back due to the lack of reinforcements.

                             The 67th Ohio did breech the walls of Fort Wagner, 
                        but they were unsupported and eventually had to retreat.



In the midst of attacking Rebel positions on Morris Island Henry's strength was being depleted by debilitating attacks of diarrhea.  The lack of sanitation, plus bad food, and a hot  tropical climate that was ideal for breeding diseases made many soldiers unfit for duty.  The continuous assaults on Henry's constitution led his regimental surgeon to request that he be given a 30-day medical leave.  A 20-day leave was granted and  Henry went home but still did not improve.  He remained so ill that the return to his regiment had to be delayed over two months. During that time Henry was considered AWOL  (Absent Without Leave) by brigade headquarters.  In January, 1864, upon Henry's returned to his regiment, he began the process of trying to clear himself of the AWOL charge.  At that time he and his regiment also reenlisted, giving each man a 30-day furlough as a reward.  Henry again goes home to Holmes County.  But this time he is healthy, so healthy that he marries his sweetheart, Ellen Wells, one week before his return to the war.

In the spring of 1864 the 67th Ohio Infantry moved from the South Carolina coast up to Virginia.  Henry continued to work on his AWOL defense while he battled more health problems that eventually hospitalized him.  At the end of April he was sent for a week to Seminary Hospital in Georgetown, D.C.  After his discharge from there he rejoined his regiment just in time for an engagement at Chester Station, VA.  This railroad depot was located about half-way between Richmond and Petersburg.  It is difficult to say just how effective Henry was leading his men into battle on that hot spring day after his lengthy illness (the temperature was said to be near 100 degrees).  However, his presence would have been valuable since he obviously had the ability to inspire men under his leadership.  Henry entered the ranks as a private and was regularly promoted, eventually receiving a 1st lieutenant's commission by the governor of Ohio.

The Battle of Chester Station is considered by historians a very minor engagement between Union and Confederate forces.  Most military histories do not include it in their catalogs of battles and skirmishes.  But the May 10, 1864, Battle at Chester Station was no small affair to Henry and his regiment.  In this one engagement the regiment had 76 officers and men killed or wounded; Henry being killed in action.  His new bride, Ellen, all too soon became a war widow after two months of marriage and only one week of living together with Henry as husband and wife. 

There is no gravestone or cemetery plot for Henry for there is no record of what happened to his body after the engagement.  Sometimes officers who died during the war were shipped home by the government for burial.  However, there is no record of Henry being buried in Killbuck or any of its surrounding communities.  A search in the Official Roster of Soldiers  of the State of Ohio in the War of the Rebellion, Volume V- Roll of Honor, reveals nothing; he is not included.  This Roll of Honor identifies all the men from the 67th Ohio who died during the war and where they are buried. Henry and another soldier, for some unknown reason, were omitted.  A comparison of this document with the offical casualty report written by his commanding officer states that Henry, together with 20 other soldiers, were either killed outright or died of wounds at the Battle of Chester Station.  Nineteen of them, including another officer, were then buried in Hampton National Cemetery, Virginia.  There appears to be only two possibilities of what became of Henry's body after his death:  either he was  buried in Hampton National Cemetery as an Unknown or his body was  never  recovered and remained on the battlefield at Chester Station.   There were fires on the battlefield at the close of the Chester Station engagement, rendering recovery of the killed and wounded extremely difficult.  We may never know the true story behind the final disposition of Henry's body. 


              Henry Wallick with the 16th Ohio Volunteer Infantry 
                                        (   3 months Service)

                                                         1861

APR 22  Henry enlists at Millersburg, OH, in response to President Lincoln's call for 75, 000 volunteers to put down the southern rebellion.  Fort Sumter had  been fired upon ten days before.

APR 25   The men from Holmes County travel to Camp Jackson, in Columbus, OH, and are organized into Company G, 16th Ohio Volunteer Regiment.

MAY 11   The 16th Ohio is mustered into Federal service with General George B. McClellan as its commanding officer. 

MAY 25  Henry and his regiment leave for the towns of Farmington and Grafton in western  Virginia (now West Virginia), where they are guards on the Baltimore & Ohio Railroad.

JUN 3   Battle at Philippi, WV.   The Union occupation of western Virginia (the state of West Virginia was not created until 1863) is important because it links by rail the eastern and western states of the Union.  The Baltimore & Ohio Railroad runs through a slice of extreme northern Virginia and any interruption of service would be detrimental to the North's war effort.  Henry and the 16th Ohio sees action at Philippi, WV, in what is the first notable land battle of the Civil War.  It is a very minor skirmish and mockingly called the "Battle of Philippi Races" because of the hasty Confederate retreat.  There are few casualties: 4 Union and 26 Confederate out of a total of 3,800 engaged, but the consequences of this Union victory are huge for General McClellan.  He is propelled  into the national spotlight as a war hero and within six months General McClellan will be the commander of all Union forces.

 JUN 29  Engagement at Bowman's Place  Some companies from Henry's regiment see  action in this very small engagement.    

JUL   The 16th Ohio continues to guard the B&O Railroad and pursues Confederate forces in West Virginia.

AUG 18   Henry is mustered out of Federal service at Columbus, Ohio, on expiration of term.  During the 16th Ohio's three months of service his regiment had one man killed and two died of disease.

        
               Henry Wallick with the 67th Ohio Volunteer Infantry
                                             (3 years service) 
                                                    
                                                      1861

NOV 19  Henry reenlists as a private in a newly organized company from Holmes County.  They move to Columbus, OH, and become part of the 67th Ohio Volunteer Infantry.

DEC 31  Henry is promoted to 3rd Sergeant in Company C of the 67th Regiment.

                                                                    1862

JAN - MAR 10   The 67th has guard duty a Paw Paw Tunnel and Great Capapon Creek, WV.

FEB  26   Cousin William D. Wallick, who is in the same regiment and company as Henry, dies of measles at Claryville Hospital near Cumberland, MD.  He is eventually buried at Antietam National Cemetery.

MAR 11-21   The regiment advances to Winchester, VA, then makes a reconnaissance to Strasburg.

MAR 22-23   Battle of 1st Kernstown   Henry is opposed by General Stonewall Jackson in the first battle of Jackson's 1862 Shenandoah Valley Campaign.  The Confederates want to disrupt the B&O Railroad operations in northern Virginia and keep as many Union soldiers as possible pre-occupied in the Shenandoah Valley.  On the evening of March 22, Henry's brigade makes first contact with the enemy and draws skirmishing fire.  The next day, faulty intelligence given to General Jackson moves him to engage the Federal forces, even though he is greatly outnumbered.  By 2:00 PM the combatants are in position and the battle begins with artillery fire. The battle grows with a steady crescendo and by evening Henry's brigade is thrown into the melee.  He and his regiment fight the famous Stonewall Brigade for about two hours and the 67th Ohio makes numerous charges against this stubborn Rebel line.  But the Stonewall Brigade eventually runs low on ammunition and must retreat, much to the ire of General Jackson.

Henry and the 67th Ohio were deployed here, on Pritchard's Hill, at Battle of Kernstown.  They were placed on the far hill, to the right of the distant silo. 



The Battle of Kernstown is the only engagement in Stonewall Jackson's  Shenandoah Valley Campaign where he is defeated.  Roughly 8,000 Union soldiers have been opposed by 3,000 Confederates creating 1,000 combined casualties.  Michael Wallick of the 27th Indiana and William F.M. Wallick of the 13th Indiana also take part in this battle and campaign.  William is deployed very near Henry at the Battle of Kernstown and  Michael will be captured on May 23rd at Buckton Station, VA, a casualty from the Battle of Front Royal.

 APR - MAY   The 16th Ohio marches to Fredricksburg, VA, and then to Front Royal.  Stonewall Jackson is still reeking havoc in the Shenandoah Valley.  

MAY 23   Henry is promoted to 1st sergeant in Company C.

JUN 9  Henry's regiment helps cover the Union's defeat and retreat from the Battle of Port Republic, VA.

JUN 29  For most of the summer Henry is at Harrison's Landing, south of Richmond, on the James River.

AUG 16 - DEC 31   The 16th Ohio moves downstream to Fort Monroe on the Atlantic coast at the mouth of the James River.  They spend a week there, then move inland to Suffolk, VA, for the rest of 1862.

                                                       1863

JAN   On New Year's Day Henry makes preparations to travel down the Atlantic seaboard to the islands off the Carolinas coast where he will be posted for the next year.  His regiment first moves to Beaufort, NC, then New Berne.  By the end of January he is at Port Republic, SC.      

FEB 9   The 16th Ohio is deployed for the next two months on the islands of Hilton Head and St. Helena, SC.  Now a vacation destination for the wealthy, in 1863 they are swampy lowland islands off South Carolina and a breeding ground for a multitude of diseases.  

APR 3 - JUL 9   The 16th Ohio occupies Folly Island, south of Charleston Harbor. 

MAY 23   Henry is promoted from 3rd sergeant to 1st sergeant.

JUN 13   Henry is commissioned a 2nd lieutenant by the governor of Ohio and officially mustered in at said rank, July 1.

JUL 10   Attack on Morris Island   The Union Army secures a base at the south end of Morris Island.  This island is at the mouth of Charleston Harbor.

JUL 18   Assault on Ft. Wagner   The 67th Ohio takes part in the famous assault on Fort Wagner,  Morris Island, SC.  A Federal force of ten regiments charge across a narrow strip of beach in an almost suicidal attack on the Confederate fortress.  The Union brigades are led by the 54th Massachusetts Colored Troops whose commanding  officer, Colonel Robert Gould Shaw, has passionately lobbied that his men be given the honor to lead the attack.  The twilight assault on this fort is dramatically portrayed in the climax to the 1989 film "Glory".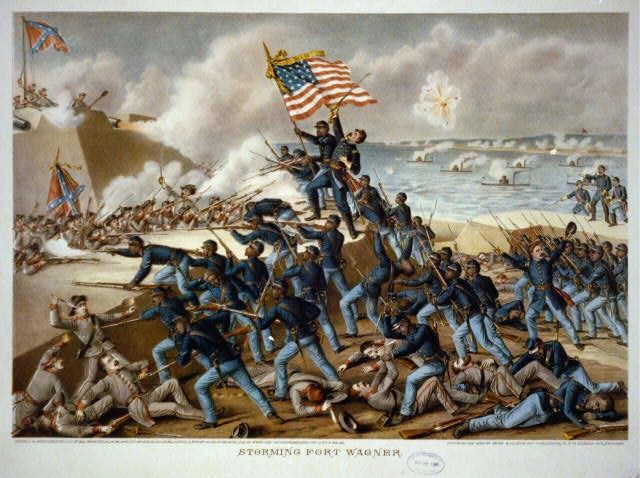 The 67th Ohio is in support of the lead brigade and does penetrate the southeast corner of the Confederate fort that night.  They hold the positions for about an hour but must eventually withdraw due to the lack of reinforcements.  Henry's brigade commander, General H. S. Putnam, is killed in the assault and the Federal casualties are high, about 1,500 versus 200 Confederate.  No benefit is gained from the attack.  The Union Army must now lay seige to the Rebel fortress.  It is unknown to what degree Henry is involved in this assault.  He may very well have stormed the fortress with his regimental brothers.  However, his records from the National Archives show that at this time on Morris Island Henry is sometimes very ill.  He may have been sick enough to be hospitalized that night but there is no written record stating this.  Even if he were sick, as an officer he would be expected to lead his men into battle, unless the illness was of an extreme nature.  Any debility of Henry at the time of this attack is unknown.  The regiment suffers heavy casualties with many of Henry's comrades being killed in this battle.                    

JUL 19 - SEP 6   Siege of Fort Wagner and movements around Charleston, SC.  The Union forces are unable to overthrow the fortified Confederate positions on Morris Island either by direct assault or offshore naval bombardment.  They lay siege to the fort throughout  the summer.
 
SEP 7 Capture of Fort Wagner  The Union Army, with the help of the U.S. Navy, forces  the Confederates to abandon Fort Wagner on the night of September 6.  All of Morris Island is now occupied by the Union Army.

SEP 8 - OCT 31   The Federals move against Charleston, SC.

SEP 11   Henry has been ill the past three months with chronic diarrhea.   The assistant surgeon of the regiment, Dr. James Westfall, makes a written appeal to Lt. Colonel Edward Smith that Henry be granted a 30-day leave of absence to help improve his condition.  Accompanying the doctor's recommendation is a note written by Henry making a personal appeal  for a 30-day leave.  Henry is only granted a 20-day leave of absence.

Henry Wallick wrote this note on September 11, 1863, to his commanding officer requesting a 30-day leave of absence due to "consequences of physical disability".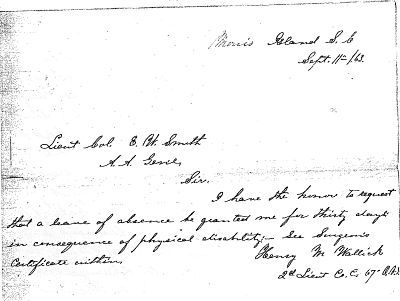 Dr. James Westfall, Assistant Regimental Physician, writes an accompanying letter  stating that "a greater change is necessary in his (Henry's) case to save life or prevent permanent disability."  Henry has suffered from chronic diarrhea for the past three months.
           

OCT 2   Henry begins his 20-day leave with hopes that his health will improve while at home. 

OCT 22 - DEC 28  At the conclusion of Henry's leave he is still too sick to return to duty and must delay his departure.  He is now considered AWOL by brigade headquarters.  It will take another two months for his health to improve so he can leave Holmes County.   During his extended absence he is examined three times (Oct. 25, Nov 12 and Dec 2) by Dr. T.G.V. Boling.  This physician writes a certificate after each examination which states that Henry is still too ill to resume his duties.  At the close of each certificate, Holmes County Justice of the Peace, Robert Justice, writes an endorsement for Dr. Boling, in effect notarizing the document.  Robert Justice verifies that Dr. Boling is a legitimate practicing physician in Millersburg, OH.

Henry needs this certificate of examination from a doctor in "good standing" to legally extend his leave.  Dr. Boling wrote this note on November 12, 1863.  In it the doctor states that  "he (Henry) is suffering from chronic diarrhea and debility resulting therefrom.  I also certify that in my opinion he cannot be able to resume his duties in the field in a less period than twenty days from this date."  Certificates written by Dr. Boling in October and December have the identical wording and endorsement from Justice of the Peace, Robert Justice.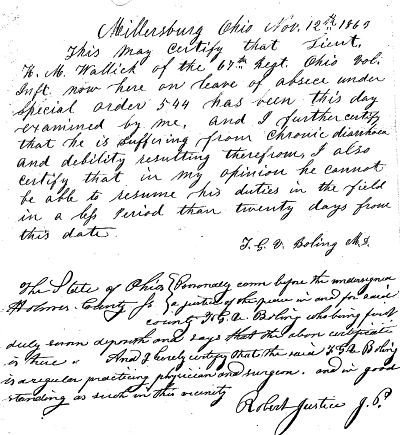 DEC 28  Henry is finally healthy enough to report for duty at Hilton Head, SC.  He immediately requests a hearing to present evidence and explain his extended absence.

                                                       1864

JAN   While at Hilton Head, Henry and the 67th Ohio reenlists as a veteran regiment.  Doing this grants each man a monetary bonus plus a 30-day furlough.

FEB 5   Henry makes another plea to brigade headquarters for a hearing on the charge of being AWOL.

                  Henry's second appeal to headquarters for a hearing on being AWOL.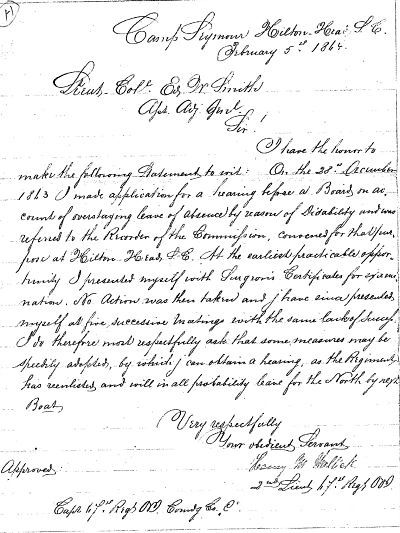 FEB 18   Henry is commissioned a 1st lieutenant by the governor of Ohio but must wait to be officially mustered-in at said rank.  Unfortunately, he will be killed before he is officially mustered-in.

FEB 24  As a reward for reenlisting Henry begins his month-long furlough back home to Killbuck, OH. 

MAR 17   While on furlough Henry marries Ellen Wells, also from Killbuck.  They have a one week honeymoon before Henry must return to war.

APR - MAY 3   The regiment moves to Yorktown, VA, to be part of General Benjamin Butler's Bermuda Hundred Campaign.

APR 6   Henry is granted permission to appear before a military commission to present evidence that he was too sick to return to duty in October of 1863.

             Permission from Provisional Brigade Headquarters in Washington D.C. 
           granting Henry a hearing on the charge of being AWOL in the fall of 1863.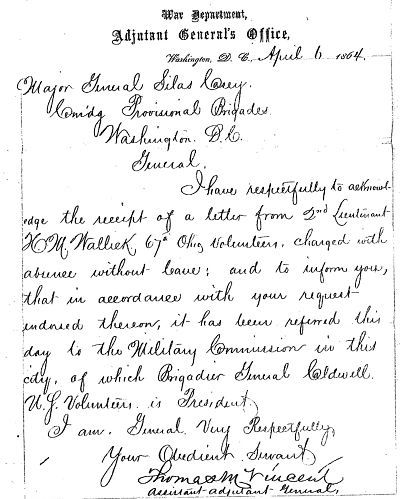 APR 14   Henry is again sent to the regimental hospital due to illness.

APR  25   Dr. James Westfall, Assistant Regimental Surgeon, writes to Henry's commanding officer:

Sir,
You will please give Lt. Wallick an order to go to Officers' Hospital, Georgetown, D.C.  We are to move this morning & the Lt. is not able to go with us.  He has been quite ill but is now improving. 
                                              Very Respectfully, James Westfall, Surgeon, 67 O.V.I.

                         

 
MAY 2   After one week Henry is discharged from the hospital and rejoins his regiment.

                   Henry's discharge paper from Seminary Hospital, Georgetown, D.C.
                      


MAY 4 - 5   The 67th Ohio is part of General Benjamin Butler's operations on the south side of the James River and Bermuda Hundred.  They occupy City Point, VA.

MAY 6  Henry is cleared of the AWOL charge!  It is difficult to know exactly when he is notified of this, but the bar to his pay, which has been in place since being charged AWOL, is raised on May 6, 1864.

MAY 9   Engagement at Swift Creek   The 67th confronts and drives back Rebel  forces at Swift Creek.  General Butler doesn't follow up the attack and  is content to destroy the  Confederate railroad.  

May 10   Battle of Chester Station   The Confederates send a reconnaissance-in-force to Chester Station to prevent any further destruction of the railroad between Petersburg and Richmond.  As the forces assemble (near the present day intersection of US 1 and Highway 10) the 67th Ohio is placed in the front line, near a battery of artillery, where they take heavy casualties as the battle explodes.  The near 100 degree heat that day, together with a dry spring season, will set some portions of the battlefield on fire before the engagement ends.  Confederate and Union forces try to rescue the wounded, with mixed results.  The Federal forces are defeated in this engagement and as night falls, they withdraw.  Whitelaw Reed gives this brief account of this engagement in his 1868 chronical,  Ohio in the War, Vol II:      

The Sixty-seventh maintained it's position from first to last, presenting an unbroken front to four successive charges.  A section of our artillery, for a short time, fell into the hands of the enemy, but was recaptured by a portion of company F.  The 10th of May, 1864, will always be remembered as a sad but glorious day by the Sixty-seventh.  Seventy-six officers and men were killed and wounded in that battle".

                            The Battle of Chester Station
          The 67th Ohio was on the front line at the center of the battle on May 10, 1864.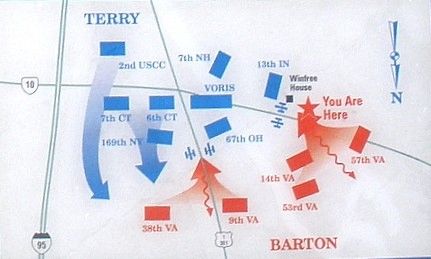 According to the United States Army, Henry is the only Wallick soldier to be classified as killed in action- KIA, in the Civil War.  Two other soldiers, Isaiah Wallick and Elias Wallick, died days after being wounded in battle (died of wounds- DOW) and William D. Wallick died of disease (DOD).

Just past these trees is where the 67th Ohio was deployed at the Battle of Chester Station.  There is no preserved battlefield at Chester, VA.  The battle site is now  located in a highly developed urban area surrounded by car dealerships and shopping centers.
  


                                         Epilogue  

Henry's grave has yet to be found anywhere in Ohio or Virginia.  It is still a mystery what  became of his body after he was killed at Chester Station.  The author believes there are only two possibilities: he was either buried in Hampton National Cemetery as an "unknown" (his body being so disfigured from his wounds that he was unrecognizable) or he was left on the field of battle.  The Confederates won the battle and had possession of the field at the end of the day. There were also fires that consumed the battlefield after the engagement and many times soldiers were unable to retrieve the bodies of dead comrades. The case for being buried as an unknown is strong, too.  There were twenty soldiers killed or mortally wounded at Chester Station.  Every soldier, except one, was buried in the Hampton National Cemetery (and the records for the one exception are very confusing).  If Henry was taken off the field, he would have been buried in Hampton National Cemetery.  Since there is no Henry Wallick named as interred, the only other possibility is that his body was unrecognizable and buried as an unknown.

 This monument to the Battle of Chester Station, erected by the Sons of Confederate
 Veterans,  can also serve as a memorial to Henry M. Wallick.  The Confederates won the battle, had possession of the field, and that is why Henry's body may never have been recovered.
   


There are 638 unknowns buried in the Hampton National Cemetery.  The records list only one Unknown Soldier who was interred shortly after the Battle of Chester Station - #4085, buried on May 12, 1864.  Could he possibly be Henry? 



Comrades-in-Arms

Brother
David H.    102nd OH

Cousins
David       139th Ohio National Guard 
Daniel         20th OH
Elijah        102nd OH
Michael      27th IN

1st Cousin-once removed
William D.  67th OH- died of disease    

                                                               
Song- Comrade, I Am Dying

This song is especially appropriate for Henry M. Wallick since we know he died on the battlefield at Chester Station.

Comrade, I Am Dying  vs. 1
Comrade, comrade, I am dying!
    See the crimson fountain flow!
Sick and wounded, I am dying,
    On the field among the foe.

But the angels hover round me,
    They will guard me while I sleep:
Comrades onward to the battle, 
    Do not for the soldier weep.




                                                               Return to Top

                                                                   Return to
                                                         Wallick Family Website