Charles (Charley) Wallick- 16th Ohio, Co. B

Rank: Private

Place of enlistment: Millersburg, Ohio

Mustered into Federal service: November 4, 1861

Service Time: 3 years, 1 month, 3 days


Born: July 8, 1843 - Holmes County, Ohio

Age at enlistment: 19 

Height: 5'4"  light hair, blue eyes

Civilian occupation: Farmer


Family Lineage
Charles, son of Michael, son of John Sr., son of "Bedford County" Michael, son of Hans Michael and Esther Wallick

There were two Charles Wallicks who served in the American Civil War.  These two soldiers fought  in regiments that were engaged in some of the war's most famous campaigns and many times distinguished themselves  on the battlefield.  Charles F. Wallick, of Miami County, Indiana, served with  the 87th Indiana Volunteer Infantry, one of the finest volunteer regiments from the Hoosier state.  Charles Wallick, of Holmes County, Ohio, served in the 16th Ohio Volunteer Infantry, whose reputation was equal to the Indiana men.   The two regiments were deployed in different theaters of the war, the 87th Indiana fought primarily in the southeast states and the 16th Ohio in the Mississippi Valley.  Charles Wallick, or Charley, as his comrades called him, was a young farmer when he joined the fight in September of 1861.  This biographical sketch will use his nickname, Charley, instead of his given name, Charles, to help keep his identity separate from distant cousin Charles F. Wallick. 

Charley's father, "Guthrie" Michael (1804-1895), was one of four siblings who were orphaned at a very young age.  Michael's father, "Bedford" John, had died suddenly in an accident as a young man and his mother, Margaret Dibert, had died in 1813, possibly in child birth.  Michael grew up in Bedford County, PA, and eventually joined the Wallick family's westward migration to Ohio sometime before 1834, settling in Holmes County.  He quickly made a name for himself by demonstrating pyrotechnic heroics when the county courthouse in Millersburg caught fire and nearly destroyed the town.  

From the book, Holmes County Ohio, Flashes from the Past, by Donald Egger, an account of the great fire of Millersburg, 1834:

"The fire destroyed more than half the buildings of the town and decidedly the most valuable ones.  The present Court House, then new, was saved by the almost superhuman exertions of Michael Wallick and others, and most of the other buildings were on fire, but saved....At that time Michael Wallick went on top of the Court House and there for six hours, amid fire falling thick as hail, blinding smoke and scorching flames he succeeded in saving the building.  Shortly afterwards the Commissioners voted him $15, as a compensation for the extreme danger he had encountered in saving the house." 

  Holmes County Courthouse, circa 1860, Millersburg, Ohio


Genealogical evidence suggests that Charley was only eighteen years old when he rode into Millersburg and volunteered for a three year stint with the Union Army.  This is in contradiction to his war archives which state he was twenty years old.  Whichever is true, he was one of thousands who volunteered from Ohio that late summer to help  preserve the Union.  His younger brother, William D. Wallick, caught "war fever" three months later and enlisted the day after Christmas, 1861.  Unfortunately, he also caught a bad case of the measles and was dead within two months, dying in a hospital near Cumberland, Maryland on February 26, 1862.  A soldier in the Civil War was twice a likely to die on an army cot from disease as to die on a battlefield from a wound.

Charley was part of two very famous campaigns in the western theater of the war.  One a tremendous success and the other a dismal failure.  In the Vicksburg Campaign of 1863 he witnessed General Grant at his very best.   The general demonstrated command creativity, improvisation, and determination.  In contrast to this is the Red River Campaign led by General Nathaniel Banks. Charley was part of that debacle from start to finish and the whole effort was a waste of the soldiers' time, energy, and for some, their lives.  

There are a few interesting facts about Charley Wallick and his service with the 16th Ohio Infantry.  During the war he traversed this country's highways and byways more than any other soldier from the Wallick clan.  He and his regiment traveled from the Appalachian Mountains of east Tennessee to the Gulf of Mexico.  Charley spent a portion of his service time on a beautiful white sand beach off the Texas coast that today is being developed into a tourist playground.  However, at the time the men of the 16th Ohio viewed this sandy, windblown beachfront property as a cursed abode.  They were billeted in army tents where sand found its way into everything and the wind rarely stopped blowing.  Charley and the 16th Ohio rode up and down the Mississippi River by steamboat countless numbers of times and by the end of the regiment's enlistment it has been estimated that they traveled 1,620 miles by foot, 1,285 miles by train, 1,200 miles by steamship and another 3,620 miles by steamboat.  The war provided a mid-nineteenth century farmer, like Charley, the opportunity of a lifetime.  He visited some very distant and exotic places as a young man when most farmers at that time barely traveled outside their own county.  At 5 feet 4 inches tall,  Charley is by far the shortest of all the Wallicks who served in the Civil War. His small stature, however, should in no way be taken as a measure of his contribution to the war effort.

                                   Charles Wallick at an unknown date and age.
                     Image is from an enhanced 16th Ohio Infantry reunion picture.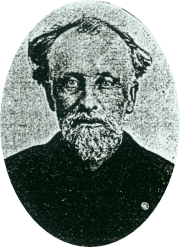 Charles Wallick with the 16th Ohio  Volunteer Infantry

                                                      1861

SEP 23 - NOV 3   Charley Wallick travels to Camp Tiffin in Wooster, OH, where the men from Holmes County are organized into Company B of the 16th Ohio Volunteer Regiment.

NOV 4   The 16th Ohio is mustered into Federal service at Camp Chase, Columbus, OH.

NOV 28 – DEC 18   The 16th Regiment moves to Camp Dennison, OH, and from there on to Lexington, KY.

DEC 19 - JAN 30.    Charley and his regiment are posted at Summerset, KY.

                                                      1862

JAN 31 – FEB 12   Charley and his regiment march to London, KY, and then on to Cumberland Ford to repair and rebuild railroads.

Feb 26   Charley's younger brother, William D. Wallick of the 67th Ohio Infantry, dies of measles in an army hospital at Cumberland, MD.  William enlisted the day after Christmas and was in service only two months.  He is the only Wallick to die of disease during the war. 

MAR   28 – JUN 18   The 16th OH participates in the Cumberland Gap Campaign of 1862 and has a skirmish at Elrod's Ridge.

JUN 15 – SEP 15   Charley is part of the occupation force at Cumberland Gap, the "Gibraltar of America," and sees action at Wilson's Gap and Tazewell, TN.

                   Looking west from the Cumberland Gap, a strategic point that was 
                     possessed and lost multiple times by both armies during the war.
    
   SEP 16 – OCT 3  Charley's regiment is forced to evacuate Cumberland Gap and retreats all the way back to the Ohio River.  By the end of the war, the Cumberland Gap will have changed hands four times, yet no major engagement ever takes place there.  The occupying force always surrenders ground by being outmaneuvered by the opposing force.
OCT 21 – NOV 10   The regiment is part of an expedition to Charleston, WV, then ordered to Memphis, TN.


               General Grant's Campaign to take Vicksburg, Mississippi

                         Vicksburg, Mississippi c. 1860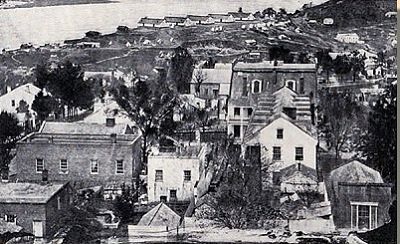 In late December, 1862, Charley Wallick and his regiment were moved west to become part of General Grant's Vicksburg Campaign.  The siege of Vicksburg, Mississippi, is not the beginning but the capstone to Grant's movements against the Confederacy's bulwark on the Mississippi River.  Grant has five months of failed ventures before he conceives of a plan that is not only ingenious, but also works.  Vicksburg is situated on high bluffs that overlook the Mississippi and with well-placed Confederate artillery, it is nearly impossible to assault by boat (although Grant at first tries and fails, miserably).  If he could take the town, the Union would have free navigation into the heart of the nation to move foodstuffs and materiel from the Great Lakes to the Gulf of Mexico.  This would also cut the Confederacy in two and deprive them of agriculture and livestock products from the western Confederacy, especially Texas.  It is impossible to go into great detail about the campaign in this brief biographical sketch about Charley Wallick, however, a little background is necessary to highlight his participation in this great military crusade.  Charley fought in a campaign where many historians believe General Grant demonstrated his best generalship and this operation rivaled any that were designed by Julius Caesar or Napoleon Bonaparte.

DEC 20 – JAN 3   The 16th Ohio is part of General Sherman's Yazoo River Expedition to take Vicksburg by land from the north. 
DEC 29   Battle of Chickasaw Bayou   Charley and the 16th Ohio  Regiment are key troops in this battle of the bayou north of Vicksburg.  They attack entrenched Rebel positions along a fortified ridge about noontime and take heavy casualties.  Charley's regiment storms headlong into the Confederate rifle pits below the bluffs and are decimated by murderous Confederate musketry.  General Sherman is forced to retreat back up the Yazoo River and this expedition ends in failure.  Losses to the regiment are great: 311 officers and men killed, wounded or captured. 

Confederate troops were well entrenched on the distant bluffs.  The engagement is called the Battle of Chickasaw Bluffs in many historical narratives but the ridge is really called Walnut Hills.    The 16th Ohio advanced toward the hills where they met devistating Rebel rifle fire, creating numerous casualties and a quick retreat.  This engagement is more properly called the Battle of Chickasaw Bayou.  

1863
JAN – FEB   Charley is part of an expedition to capture Ft. Hindman on the Arkansas River.   The regiment is so badly shot-up from its engagement at Chickasaw Bluffs that they are held in reserve and do not take an active part in this engagement.  The regiment is then moved to Young's Point, LA, west of Vicksburg on the Mississippi.
MAR – APR 17   The 16th Ohio moves upstream to Milliken's Bend, General Grant's headquarters.  The Union forces are on the west bank (Louisiana side) of the Mississippi River and surrounded by bayou.  Vicksburg dominates the heights on the east bank of the river.  The general needs his gunboats south of town to transport his troops from the west bank to the east bank of the Mississippi.  Grant has devised at least five plans the past few months to approach Vicksburg and every one of them has failed.  He now plans to circumnavigate Vicksburg by digging a ten mile man-made canal, parallel to the river and through the Louisiana swamp. By floating his troops down this canal he can be out of range and bypass the big guns of Vicksburg.  Charley's regiment spends six weeks in the middle of winter digging through the muck and mud of the bayou and this too, fails.  
APR 16   In the middle of the night, General Grant has eleven gunboats and transports from Admiral Farragut's river fleet run the gauntlet past Vicksburg.  There is constant Rebel fire for two and one-half hours from their big guns but only one river vessel is sunk.  Grant now has the means to transport his army on to dry land from the west bank of the Mississippi to the east bank of the river.

        Confederate artillery fire on to Union gunboats the night of April 16, 1864.



      The USS Corondolet was one of the ironclads that ran the gauntlet at Vicksburg.  
 Vessels like this one ferried Charley and the 16th Ohio across the Father of Waters.


APR 25 – 30  General Grant's Army crosses the Mississippi River at Bruinsburg, MS, and now has a secure base on the east bank of the Mississippi River.

                       General Grant's Vicksburg Campaign- May, 1864
                                                     National Park Service Map


MAY 1   Battle of Port Gibson (Thompson's Hill)  This is where Charley is reportedly wounded in the ankle, refuses treatment, binds his wound with a piece of bacon and then secures a mule to ride off and rejoin his regiment.  There is no mention of this incident in Charley's Compiled Military Service Record from the National Archives.  There are a few possible explanations for this:  1.  The service records from the National Archives are very incomplete and it could easily have been overlooked.  2. If he refused treatment and was not admitted to an army hospital there would be no official record of his injury and one can then assume that maybe it was a very slight wound.  A seriously wounded soldier would have been ordered by his commanding officer to be treated and probably would have been absent from duty, which might have been documented.  3.  This could be a good soldier's tale, passed down through the years and embellished with each retelling.  Perhaps the original account started as no more than a sprained ankle, with no mule or bacon.  The truth as to whether this incident ever really happened will have to be judged by the reader.  This story aside, there is no doubt that early in the day on May 1st Charley's brigade does drive the enemy back 400 yards to help secure a Union victory and Charley is probably in this fight.  The army will march northeast toward Jackson, MS, then swing back and approach Vicksburg from the land and rear.

This dirt road is illustrative of the terrain and conditions where the Union and Confederate troops fought each other at the Battle of Port Gibson.  Charley's brigade would have marched through here on its way to engage the enemy.  The battleground has remained unchanged in the years since the engagement.  There are some historical markers in the vicinity but no preserved battlefield.

MAY 16  Battle of Champion's Hill   Both Daniel Wallick of the 20th Ohio and Charley Wallick fight in this battle.  For months Daniel's regiment has been involved with the Vicksburg Campaign and they have a hard fight on Champion's Hill, where they take  many casualties.  Charley's commanding officer is slow to engage the enemy but does  eventually join the conflict late in the day.  The defeat of the Confederates at Champion's Hill guarantees the fall of Vicksburg.  With this loss, the Confederate Army is forced back into Vicksburg and the town is condemned to a siege.  Without outside help, the Confederates will be forced to surrender.      

May 17   Battle of Big Black River Bridge  The Confederates last natural line of defense before Vicksburg is the Big Black River.  There is a morning fight to take the bridge and the 16th Ohio is in the front line of the attack.  Charley's brigade commander is wounded in an artillery exchange during this battle.   
MAY 19   First Assault at Vicksburg   General Grant is impatient with the thought of a siege and fears the Rebels will be reinforced.  The general orders an assault  that is very costly and a failure.  Charley and his regiment are held in reserve during this first assault.

MAY 22   Second Assault at Vicksburg     At mid-morning Charley's regiment is about a 1/2 mile south of the present day Vicksburg Military Park Visitor's Center and they charge the Rebel works.  Murderous Confederate fire stops the regiment about 200 yards from the entrenched enemy.  All of General Grant's forces are pinned down in front of the Vicksburg earthworks and Grant, rightly, calls off the attack.  However, Charley's corps commander, General McClernand, has relayed false information to headquarters leading Grant to believe there is a breakthrough in Charley's sector.  Grant orders an afternoon attack with the same results as before.  By dark, Charley's regiment has retreated back from the Confederate line.  General  McClernand is eventually sacked and sent back home to Illinois, his faulty intelligence sent to General Grant being a contributing factor. 


1864
        
         The Vicksburg earthworks between the Railroad Redoubt and Square Fort.         
            Here the 16th Ohio made its assault on Confederate positions, May 22, 1863.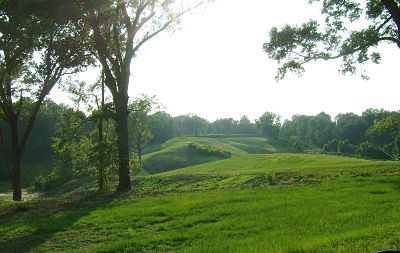 MAY 24   The 16th Ohio marches about twelve miles east of Vicksburg to be part of Sherman's exterior line of defense against Confederate reinforcements.  Charley is temporarily assigned to General Hovey's 12th Division.  They are sent to guard the Big Black River railroad bridge where they fought the Confederates on May 17th.

JUL 4   Conditions in Vicksburg have become appalling.  The civilian population and soldiers are starving with no food or supplies passing through the siege lines.  The Confederate Army finally succumbs to General Grant's forces on our nation's birthday,  July 4th, believing they can negotiate more favorable terms of surrender from their countrymen on this day.  In part they are correct.  Grant paroles the men and officers who promise not to take up arms against the United States. However, the Confederate Army is disbanded with few ceremonial honors.  The town of Vicksburg will not celebrate Independence Day for 82 years - not until after VE Day (Victory in Europe), 1945.


                16th Ohio Infantry Monument at Vicksburg National Military Park




Jul 5 – 17   The regiment participates in the siege of Jackson, MS.

AUG 13 – OCT 3   The 16th Ohio is ordered to New Orleans, LA, and then to Brashear City, LA.

OCT 3 – NOV 18   The regiment takes part in the Western Louisiana Campaign.

NOV 19 – DEC   Charley is posted at DeCrow's Point on the tip of Matagorda Island,TX.  In the same regiment and company as Charley is a drummer and friend from Millersburg, Thomas B. Linn.  In a letter dated December, 1863, Thomas gives a good description of where he and Charley are posted.  Later in the month he even refers to Charley by name in two entries of his diary.

The following is a letter from Thomas B. Linn, 16th Ohio Regiment, Company B, to his Uncle A. B. Grey, for The Holmes County Republican (a local newspaper):

Decrow's Point, Texas, Dec. 2, 1863
We are at last on the bleak shores of Texas:  landed on a sandy point extending into the sea, dividing Matagorda Bay from its more extensive neighbor, the Gulf of Mexico.  This is called Decrow's Point, named after the old planter who owns it.  Mr. Decrow is a native of Maine but leaving the old homestead, he wandered through the Eastern States, thence westward through Ohio, Indiana, Illinois, and finally found himself almost at the opposite extreme of his country, and settled.  He lived here twenty-five years and is candid enough to admit that he has wandered from the path of his forefathers and now "sympathizes with the Confederates."  But I know you would rather learn something of our trip than read about this old secesh Texan.  We left Brashear City (now part of New Orleans) Sunday morning, November 22, on the cars for Algiers.  Arriving at the depot about one o'clock we were met by our paroled men (former POWs who were captured at Chickasaw Bluffs) and then such a shout rent the air, such shaking of hands at meeting with old comrades and friends, was only equaled by the meeting of the same men with their friends and relatives when they marched into the Courthouse in Millersburg, on the eventful eve when true valor and bravery were rewarded by the presentation of those beautiful swords to the gallant Lieutenants Corn and Voorhees.  This important addition to our numbers raises the spirits of our men, as well as improves the looks and effectiveness of the regiment.  Company B can now boast of 47 men, all good and true, instead of 29, as the case less than two weeks ago (100 men was a company at full strength).  We pitched our tents near the depot and remain in Algiers two days.

The following excerpts are from Thomas B. Linn's diary:
 
Wednesday, December 2, 1863

Charley Wallick, Frank Wilson and I went down to the beach and took a bath in the bay (Matagorda Bay, about 60 miles north of Corpus Christi, TX).  Commenced a letter to Uncle Frey for the Republican, also one to Lizzie.  Unloaded ship and go aboard for my drum.  Pitch our tent anew.  Short of grub.

Thursday, December 17, 1863
Passed an ugly night and this morning are covered with sand.  Charley Wallick and Harry Myers went into the other tent in the night.  Wind still blows as hard as ever.  Some of Co. A's tents torn to shreds.  Wind goes down about noon and we fix up our tent – put cattle skins up at the ends and threw up the sand all around the tent.  Fixed up nicely now.

JAN – MAR   The 16th Ohio remains posted at Matagorda Island, TX.
MAR 18 – 23   The regiment moves to New Orleans and then to Alexandria, LA.
MAR 26 – MAY 22  Red River Campaign   The 16th Ohio is part of General Nathaniel Banks' Red River Campaign in central Louisiana.  The purpose of this campaign is to pursue the Rebels up to Shreveport, LA and then into Texas.  It is a bungled affair from its conception and in the end, a Union retreat.  Nothing is accomplished in this ill-conceived plan.

MAR 30 – MAY 10   Charley's regiment helps construct the dam at Alexandria. LA, during the Red River Campaign.  This helps raise the water level so Admiral Porter's gunboats can navigate back down the Red River in its retreat.
MAY 13 – 20   General Banks' Army retreats to Morganza and Mansura, LA.
MAY 30 – June 6   Expedition to the Atchafalaya  River.
JUN 22 – JUL   Charley has detached duty as a brigade orderly.   (An orderly could have an array of duties and responsibilities.  He could be a runner for the staff  at headquarters or simply act as a personal valet to commanding officers.) 
AUG – OCT   The 16th Ohio regiment is posted at Morganza, LA.  This is a small town on the Mississippi River between Baton Rouge, LA and Natchez, MS.
OCT   Charley starts his journey home to Ohio.
OCT 31   The 16th Ohio Regiment is mustered out at Camp Chase, Columbus, OH.   So few veterans wish to reenlist that the regiment is disbanded and new recruits are transferred to the 114th Ohio Volunteer Infantry.
Charley comes home to Millersburg, Ohio, after his discharge from Federal service.  Ready to return to normal civilian life, he marries his sweetheart, Mary Gray, on February 9, 1865.  Two months later, in April 1865, with the Civil War quickly drawing to a close, the whole family moves west and settles in Iowa.  By 1870 none of the Wallick war veterans or their immediate families are living in Holmes County.  They all have relocated west, either to Iowa or Kansas.  How much Charley's travels and younger brother's death during the war influenced his family's decision to start anew is mere speculation.  What is certain is that he and his parents, "Guthrie" Michael and Hannah, along with his older brothers and young sister, all departed for Iowa just one month after Charley's wedding.   He has a rough start in his new life.  His recent bride, Mary, dies while giving birth to their daughter, Ada, just months after arriving in Victor, Iowa.  He does remarry two years later and has at least twelve more children (exact number uncertain) by Mary Shaull. Charley dies on July 2, 1926, six days short of his eighty-third birthday.


Comrades-in-Arms

Brother
William D.    67th OH- Died of disease February 26, 1862.

Cousin
Henry M.     67th OH- Killed In Action at Chester Station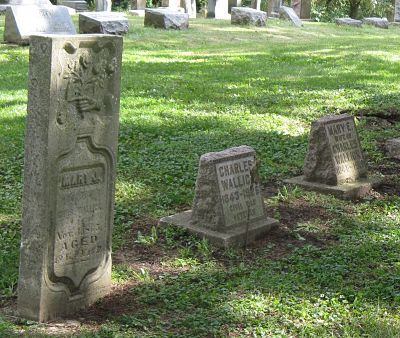 Charley Wallick 
    He is buried between his two wives
  in the Victor Iowa Memorial Cemetery
   
    Mary Gray died November 4, 1865
      Mary Shaull died August 9, 1919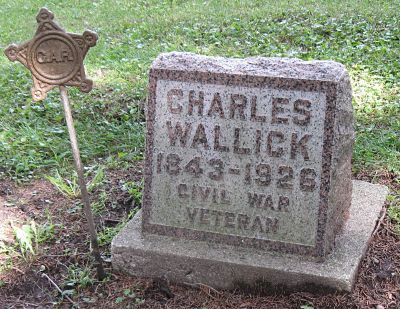 Song- The Battle Cry of Freedom

A special thank you to Michael Wood for the use of Charles Wallick's reunion picture and the diary written by Charles' friend and bunkmate Thomas B. Linn.  Mr. Wood found and enhanced the reunion picture of Charles Wallick and it is the only known image of this Civil War veteran.  For more information concerning the 16th Ohio Infantry link to http://www.mkwe.com/home.htm

                                                                Return to Top

                                                                   Return to
                                                         Wallick Family Website